Holiday dressing this year is all about feeling comfortable in your own skin.  It is about taking your ordinary and making it sparkle! This blog is going to be about dressing for different things that come up this time of year.  Part 2 will feature more about accessories and hair and make up that will finish whatever look you are creating.
I don't know about all of you but my schedule for December is already filling up.  And everything that I am going to requires something different in the attire department.  From Winter music festivals at school to New Year's eve, there is quite a few things in between and lots of possibilities with holiday dressing. I am going to break it down into 3 categories and explain all the looks you can wear for casual dressy, office party dressy ( or times when you may want to be understated but fabulous) and of course big and bold party dressy.  So let's get started!!
Casual Dressy:
So if you are wondering what casual dressy is I will tell you what I think it is.  Casual dressy is when you want to wear jeans or you are invited to a holiday party and it says come as you are.  There are lots of ways to add just a touch of sparkle or fesitivness to whatever you are planning on wearing.
So how exactly do you dress up your jeans for a great evening out or a casual holiday party?  There are a number of ways.  How about buying a pair of new jeans with some studs, lace or sparkly details?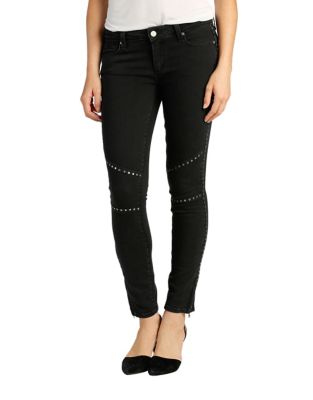 The Bay.com ( yes the Bay) has these studded Paige jeans that are skinny enough to wear with a heel and are immediately dressed up because of the studded detail.
These CJ by Cookie jeans have a lace print on it that would be fabulous with a silver heel ( like it is shown) and a sleeveless white mock neck or tucked in white shirt. And these City Chic plus size jeans have a great lace up detail in front that would be fabulous for a party
with a bright shirt.
And what about this Bebe jean with the studds on the pockets.  All of these images show denim that you may not have in your closet right now, but if the only holiday piece you want to buy is a pair of jeans, maybe look for ones with some sort of embellishment.
I also love just a classic pair of skinny dark blue or black jeans with a dressy top. Start with something very basic like these black Paige jeans from Nordstrom
or if you prefer to stick with a dark wash blue denim
go for something really dark washed like these Rag and Bone jeans also from Nordstrom and then add the dressier pieces to your own jeans.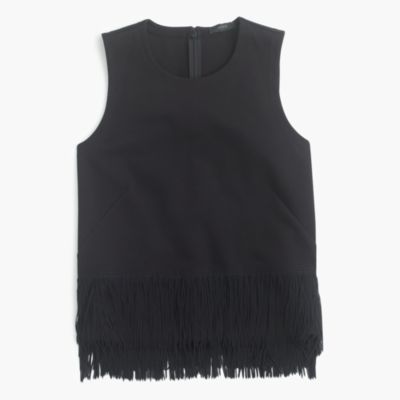 This cute little fringe tank from J Crew comes in black and a winter white and looks fabulous dressing up your jeans with high heel booties or pumps.  Elegant for a casual party for sure.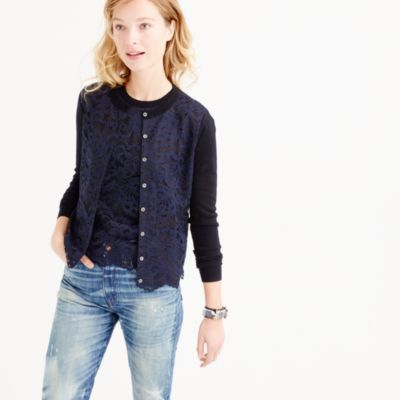 Or what about this fab lace paneled cardigan and lace shell underneath?  Also from J.Crew it will take your ordinary jeans and turn them into a holiday look. Whitehouse Black Markety has some great tops at great prices that can dress up any jean or pants in your closet.  Like this burnout burgundy blouse.
Burgundy is one of my new go to colors this season and I already have a great lace top in bugundy that will look great with a wide leg trouser or skirt. I also love sparkle and this sparkle turtleneck 
also from WHBM will work with jeans by day and night.  This time is a great time of year to add a little sparkle to everyday as well.
One last casual look that you can wear to a casual come as you are party or dress it up a bit and take it maybe to an office party is this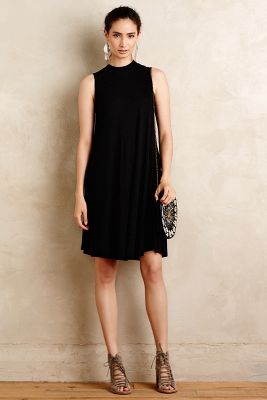 mock neck dress at Anthropologie.com.  I absolutley love this look ( so much that I ordered it already) and love that I can wear it as a layering dress under a dressy jacket or sweater or on it's own with dressy booties and chunky jewellery.  The beauty of a piece like this is it is a rib knit jersey so it will be an all season piece and I could even wear it casual with a belt and cute sneakers if I want in the spring!
So that leads us into our next category:
Office Parties and Times when Understated is Necessary:
So this is the time of the year when co workers and others get together for holiday lunches and parties.  You can't wear your jeans and it is really not appropriate to wear your party dress.  For some people that would cause a conundrum, but not for you my loyal followers.  Let's start with something I have talked about before, our wonderful lace pencil skirt.
You all remember this piece I have talked about having in a wardrobe year round.  Well now is the time to pull it out once again.  You can dress it down for lunch with a turtleneck and flat boots.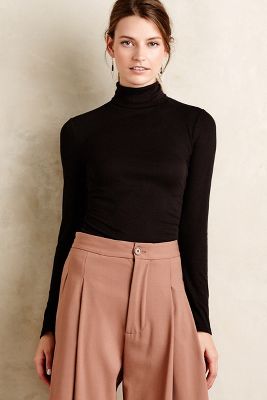 Use a turtleneck like this layering one from Anthropologie in any color you choose.  Wear a black tight and then either flat boots or a cute bootie.  And you are all set for a lunch or office party that is part of the office day.  I promise having a lace skirt in your wardrobe will never let you down.
Something else that would work fabulously well for an office party or lunch would be a patterned pant
like these plaid ankle pants for Talbots.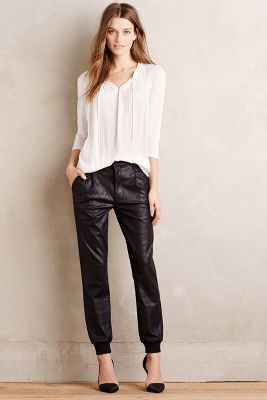 Or go for a look like these coated joggers from Anthropologie and a tucket in silk blouse.  Slightly underdressed but fabulous when you add wow accessories.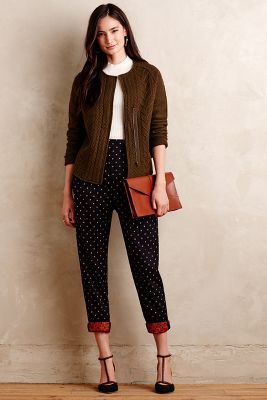 I ablsolutley love a trouser look like this from Anthropologie again dressed up with a jacket and heels that can take you to any lunch for the holidays.
Now what about if you office party is at a restaurant or an evening event but the dress still says office attire: Then you can go back to the lace skirt above and wear it with heels and a silk blouse if you want or try something a little different. You can wear an embellished skirt like this sequin one also from Anthropologie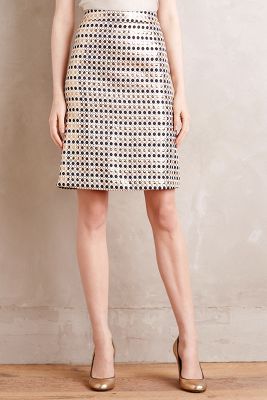 with an understated blouse.  Or something that completely caught my eye is this combination of an understated cross over top and skirt with details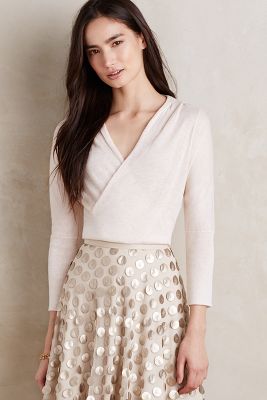 you could wear this look so many places.
We talked about pants and skirts that would work but this holiday season is all about trying something different so what about a jumpsuit?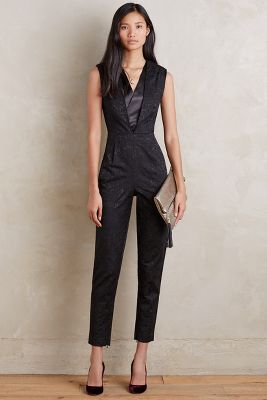 Here is a tuxedo influenced jumpsuit also from Anthropologie that will take you right into any evening event for your office. Whitehouse BlackMarket is showing this cute culotte jumpsuit 
that would work with any detailed cardigan or jacket for an understated office party look. And to me nothing is more classically elegant that an illusion dress
like this one from WHBM where you are completely covered but with an edge. Or what about an embellished lace blouse and cute little skirt?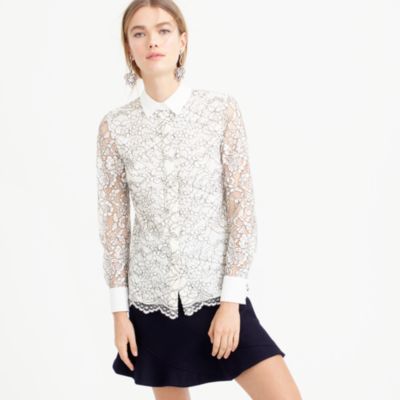 Well J.Crew has you covered there. This blouse would look great over a sleeveless jumpsuit as a jacket as well. And don't forget how far an embellished sweater can take you
even one as understated as this pearl detail one from Talbots.
One other piece I am going to talak about here is a basic velvet blazer.
Right now I am inbetween having one in my closet, but believe me when I find one I love I will grab it.  They work with everything from denim to over your sheath dress.
Big Bold Party Dressy
Everyone has one big party to go to, or just about everyone.  Either you go to the family ball where you live, your friends have a holiday soiree or maybe you just go big for New Year's eve.  Well whatever you do you will want to have just the right thing to wear.
This year there are a lot of sequins out there.  I happen to be a fan.  I have a few pieces that I love and wear at this time of the year. I have a gold, silver and black skirt that all have sequins on them.  They are not all completely sequined but I call them my sequined items.
I really get a lot of mileage out of my sequined skirts.  Mind you none of them are quite as short as the picture, but they are all at or above my knee and they are all slim or pencil skirts.  This year there are a lot of full sequined skirts on the market and that works great if you are a little larger in the hips or what something plus sized in a sequin skirt.
Soemthing like this Dante sequin skirt from Nordstrom would work if you are big in the hip because notice the flare oout of the hem drawing the eye down and away from your stomach and hips.  It works like magic. But I have also seen a number of sequin pants in magazines and on line for holiday.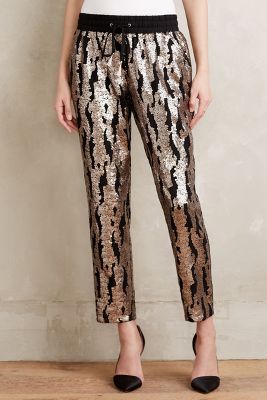 These from Anthropologie would be fabulous on any body with a black top.  Especially nice if you are someone who hates to wear skirts.  This pair of pants with the right top and shoe could take you almost anywhere.
But what says big holiday party to me are dresses.  And if you remember from the summer, I love dresses. Maybe be avant garde and unexpected in a dress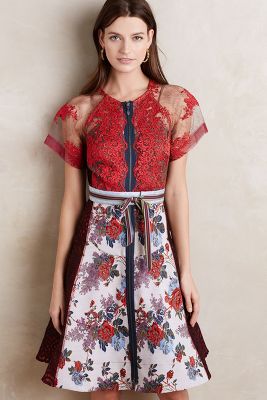 like this mixed print from Anthropologie or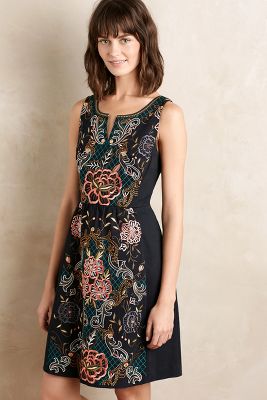 be elegant and fabulous in this dress with some open back details, also from Anthropologie.
One of my go to places for dresses is Whitehouse Blackmarket and I am absolutley in love with this lace sheath dress for party season.
I also love the way they do long gowns that are a bit understated and well priced that can take you anywhere. If you have a bit more mature figure but still want to sparkle, Talbots has this
daisy print dress that you can throw a little
sparkly cardigan over to cover your arms if you so desire. J.Crew also has some fabulous sparkly and lace dresses this holiday season: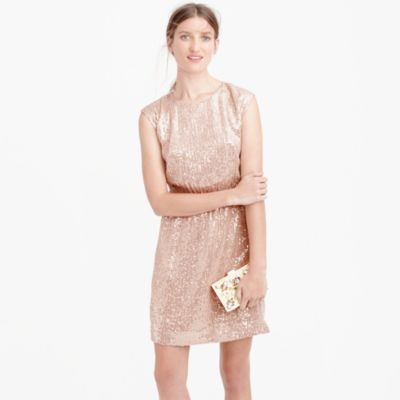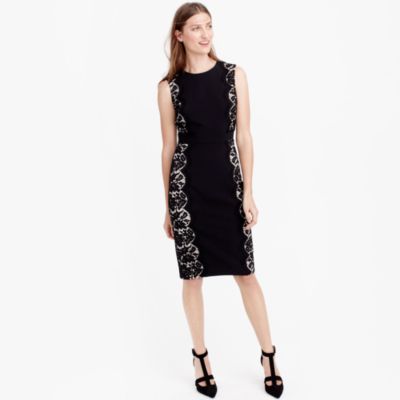 All three of these dresses are under $250 Canadian and can take you to any party you are going to. And when only something formal will do, Nordstrom will have you covered.
I love this 2 piece look from Aidan Mattox simply because you can wear the top and skirt with different pieces from your wardrobe and change the look.
Or wear something flowy and fab like this Eliza J gown. It comes in about 7 different colors so you are sure to find one that looks perfect on you. Something youthful and fresh is also big this season like 
this Elia J. dress.  Not quite as stuffy but just as dressy.
So those are looks for all three categories that can carry you thoughout the holidays.  I encourage you to think about pieces that would work all year round in your wardrobe.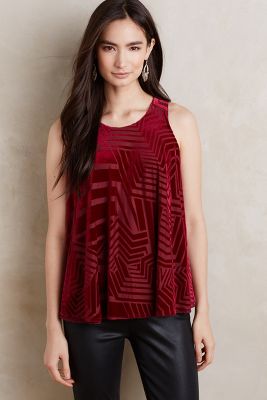 So purchasing a party top like this ( I happen to love it!) from Anthropologie makes more sense if you know you can also wear it in the summer for something dressy or fall or spring.  Pieces that work with lots of different bottoms or tops in your closet are great for having a wardrobe you love and can go to without having to shop every time you have some place to go.
So there you have it.  Need some personal advice on what to wear for your holiday looks? Email me at suethefashionista.com and we can chat or set up an appointment.
Also for the month of December I will be focussing on your questions and queries about what you want me to blog about.  So if you want to see blogs in December ( up until the 19th anyway) send me questions.  Otherwise who knows what tangent I could go off in.
I hope this opened your eyes up to some holiday looks.  There is great inspiration online at places like Anthropologie and Nordstrom and in magazines like InStyle.
Next blog will be about holiday accessories and will be up by Friday. Until then happy shopping and please email me questions for my December blogs.