As life gets busy and busier sometimes you just try and play it safe with what you wear every day.  And that's ok if you have a couple of go to outfits that just work in a number of occasions.  But the one thing about fall transitioning into holiday shows us is that it never hurts to try to take it up to the next level.  Add a dash of sparkle, texture or color and all of the sudden your go to outfit becomes a show stopper.  The two fall trends of Glam-Goth and Victorian can do exactly that for almost any outfit in your closet. Don't be shy, 9 times out of 10 your jeans will look better when you put on a blouse instead of a shirt.  And heels with a bit of detail always out do the simple boring bootie.
Victorian
I haven't spoken a lot about the Victorian trend.  I think it's because most of the women I style really like the Boho look for casual and the Minimalist look for work.  But there is a lot of fashion meat in the trend and it is one that can take you right into the holiday season.
I really don't know any woman who doesn't look better when her outfit is a touch more feminine.  That is what the Victorian trend embodies. You can wear jeans but with a lace top they take you all sorts of places.
There is no doubt that most of you would look beautiful in this Ann Taylor lace top. Paired with dark jeans it could take you from day to dinner easily. But lace can come in all sorts of places, and it can be bold and soft.  Edgy and sophisticated. Here are some examples:
Both of these pieces are from Whitehouse Blackmarket and whether it is a lace top dress or just simply adding a lace top, lace adds sophistication and feminity to the occasion.  And in a nut shell that is what the Victorian trend is about. A top could just have a touch of lace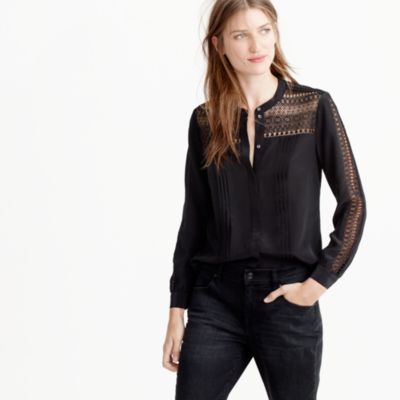 and still be casual and hit all the right feminine notes. But the Victorian trend is not just lace, it is a whole style of softness, curves on your clothing, ruffles on collars and sleeves and prints and accessories.
Victorian is a way of adding luxe to your look.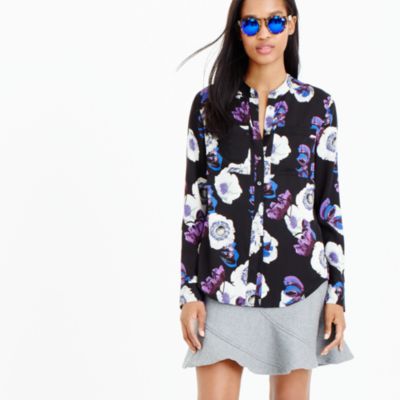 It is a gorgeous floral top over a simple skirt.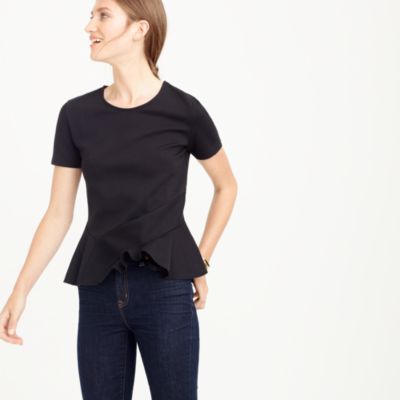 It is the simple curve of the hem of your shirt that makes you feel pretty.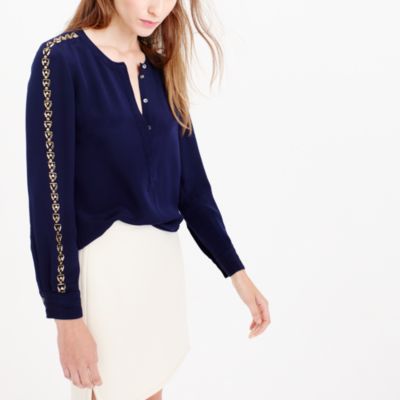 It is the emblishement on your sleeve that takes your shirt from now to wow!It is the lace skirt I have been blogging about for months but in an unexpected color
. It is the floral print on a clutch 
. It is a different way of adding texture to your existing outfits
.  To me and my clients it is adding a little sparkle to your dress
.  There are so many ways you can add a touch of this trend to an outfit.  I really bleieve that a lace skirt is essential to a great wardrobe.  But I don't limit the lace there.  I think a lace top, shawl, gloves, collar can do the same thing if that is what you would rather have instead of the skirt. But I do think investing in some lace is right where you want to be at this point. It could be as simple as wearing  lace tights
instead of the standard black tights.
A lace top immediately dresses up a look and this one creates a fitted waist on a curvy silhouette as well. You can even put a look together that will take you from the office to dinner with one piece of lace
. The femininity of the entire outfit is enchanced by the lace top, but it is also enhanced by the heel and shape of the shoe. Lace prints embody this trend as well as lace fabric
. You could be fashion forward and bold and wear lace culottes
or be modest and subdued and simply tie your hair back with a lace print pony tail holder
.
The other part of the Victorian trend I want to talk about before I run out of space to get it all in is the ruffles and curves that clothing and accessories have when tied to this trend.  I showed a curved hem top above but that is just the tip fo the iceberg. Again I will maintain that a soft ruffle looks good on every woman.  It is once again all about feminity and ruffles do the same as lace and enhance any outfit. Now when you think of ruffles most women automatically will put this picture in their heads
but as much as this dress is beautiful and feminine.  Ruffles is about so much more than dressy dresses. 
It is adding detail to a fabulouse femine shirt. Or making a sleeve a bit more feminine and sophisticated
. It is about having that quintessential wrap that goes over every outfit you own
.It can be as simple as the turn of the placket of your shirt
. It can also be the drape of your tank top
that can make it work with jeans and pretty skirts.
Right now the key thing to remember with the Victorian trend is that it will take you right into the holiday season.  The fur collars and lace details work really well with the sparkle pieces that are the holiday season.  Think lady like details, pretty pumps, delicate lace up boots, styled hair and antique looking accessories.  If you watch Downton Abbey, think Mary Crawley, what she wears and how she wears it.  She is the opitomy of the Victorian trend.
Glam-Goth
We are talking Glam-Goth and this trend is never to be confused with punk or grunge or any of those trends from the past that you may have a few things still lurking from.  The Glamourous part is the key, the Goth part is just the add on. How this trend comes to the forefront is in the same vein as Victorian.  Richness and texture in fabrics is one of the biggest elements of this trend. All the leather or faux leather sleeves and studs all lead back to here.  The beauty of this trend is that it can also take you into a wonderful holiday look by just adding a few things that sparkle.
One of the key pieces to the Glam-Goth trend is the Moto jacket
in either leather, vegan leather or fabric.  It really needs to be black and can be made in any fabric that makes you happy, even a black print or lace would work in this silhouette if you are lucky enough to get your hands on it.  One of the magaizines that inspired me this fall ( In Style Sept. 2015) calls this look Lady Danger, lady like looks done with an edge of danger.  So dark and rich and maybe a little cold as well. 
This look from Ann Taylor says it all: the dark color of the jacket, rich in texture and color with all black underneath.  A high heel bootie finishes the outfit.
You could go for a dressier bootie like this, laced up and edgy or
pick one with lots of zippers.  Any accessories that add an edge work in this trend. Capes
, and anything that is fur or faux fur
that you can pair with a skinny black bottom work to make the danger and mystery of this trend look extremely stylish in your wardrobe. Think pencil skirts with zippers
and embleishments like snaps and buttons as long as they are in black or a dark color like
this mini with zip pockets  or anything
asymetrical and textured.  And the one piece that will never fail you in this trend is
a leather or faux leather skirt plain or detailed.  Pair your dark edgy skirt with a lace top or a blouse in black with the same edge
add dark tights or over the knee boots and your are right on trend. For bottoms think leggings and ponte knit pants or dark skinny jeans
like these Ann Taylor skinny ponte leggings. I love the rich darkenss of black jeans
with a silk shirt and a moto jacket.  You can add booties with a detail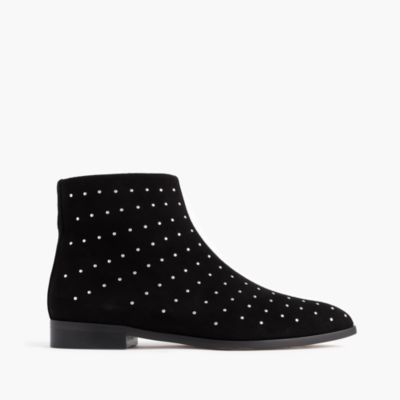 like these studded booties or
with a high heel and lug sole and hit the trend right out of the park. Velvet details, fur accessories in dark colors all work here.
Velvet leggings would add great richness to a dark shirt.
And nothing says Glam-Goth better that either a faux fur vest in black ( I live in mine in the winter) or a great 
black faux fur jacket that can top all your dark and mysterious looking outfits.
Chain link and I mean heavy chain link accessories work here, also anything with studs and edges. Here are a few examples:
I love chain link black bags. A belt that cinches you in would work well
or add a chain
belt to finish any outfit.
Heavy necklaces with fabric and jewels work well and so do edgy, long earrings
peaking out from your severe hair that you would wear with this trend.
So one of the things I like to do when I go as detailed into a trend as I have with both Victorian and Glam-Goth above is to marry them together.  Because I absolutley love and think you can feminize Glam-Goth with Victorian accents and edge up your Victorian look by adding a little Glam-Goth. To me the one go to item I think every woman should have in her closet ( and yes if you are a regular reader you know by now) is a lace pencil skirt in black.
This piece and a lace top in black
can be your key to both these trends.  The lace skirt above ( Vince Camuto plus size) can be paired with your Moto jacket and booties and the lace blouse can work with your zipper skirt or classic pant to add a touch of Victorian elegance. I would even mix accessories between the two trends, so wear your pearls with leather and your edgy necklace with a delicate silk blouse.
The mixture of these two trends can also be seen in all the dark florals we are seeing in stores and online right now.
This dark floral dress from Ann Taylor really works with both trends.  You want to make it more feminine wear it with pearls, you want it more edgy throw a leather Moto style jacket on top.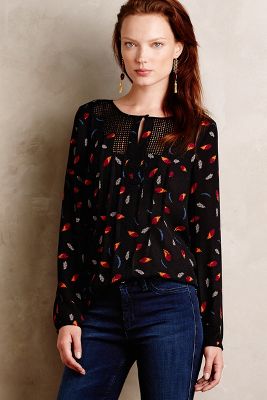 This Navara blouse from Anthropologie is one piece that I purchased for myself this fall and it works with both of the trends we are talking about.  Pretty with pearls and a flounce skirt or even better with skinny black pants and edgy boots.
Like I said at the beginning use both these trends as an entrance into the holiday season for your wardrobe.  Take a dash of edginess and lace and see where it leads.  If your like me and you live in jeans, they always look better when you put interesting pieces and accessories with them.
As always I can be reached at suethefashionista.com for questions and comments.  I am available for styling in person or online.
I hope that you add a bit of what we talked about today to your closet and enjoy wearing something that you created!