Every once in while inspiration simply doesn't come.  You look in your closet and you think Oh my goodness I have nothing to wear, even though there are literally a ton of things in there.  Believe me it happens to absolutely everyone.  You think I'd like to wear that sweater again but I just wore it and the same people are going to be there or you pick up something you have decided on and once you put it on it's not quite right.
Over the last couple of weeks the inspiration for my blogs have not come as easily to me as they did in September.  Yes, life has gotten in the way with other things I do besides blog, but really and truly I love writing this blog and it really annoys me when I can't think of something to write that will make all of you happy and excited about fashion. So for this blog I am doing something different.  I am writing about 2 trends that usually stylists wouldn't put together but I really like the idea of mixing a little Mod with Minimalist so you can bring Minimalist and your wardrobe to the next level.  Everyone once in a while inspiration can come at you from a most unexpected place. I have a very stylish girlfriend ( I actually have many stylish friends who I am in awe of everyday) and when I saw her last week she had on a simple dress, with an understated pattern and a pair of knee-high low heel suede boots.  She look perfect.  And I thought to myself, I absolutely love what she is wearing but how would I describe it and it hit me: Minimalist with a Mod feel! A very simple look, but put together in a Mod way.
What is Minimalist:
The Minimalist trend for fall embodies all the basics and rich colors we have been talking about.  The simple elegant sheath dresses
like this Vince Camuto simple sheath dress available at Nordstrom.  It also is the new style of long sweaters and vests
like this beautiful cardigan from Ann Taylor and this vest from Whitehouse Blackmarket
.  But it is also all the pieces that you see layered underneath these looks. From skirts
like this zip pencil skirt from Ann Taylor or this gorgeous
leather pencil skirt on sale right now at Whitehouse Blackmarket.com. To sweaters
simple and elegant from Whitehouse Blackmarket again or classic
and made for layering from Ann Taylor.  To the classic pants that we have talked about from skinny
and tailored to wide and sophisticated
.  What you would add to make this Minimalist look complete is classic heels  
like this Vince Camuto bootie or a simple ballet style flat like the ever classic Tory Burch flat
we all know and love and don't forget about the men's wear classic Oxford
like this one from Paul Green.  And you can always wear any type of stacked heel boot or bootie
like this one from Sole Society. Minimalist accessories are all the simple long necklaces and elegant earrings and bracelets you see in stores. Cuffs are definitely a great Minimalist go to accessory. Look for pieces like this braided tassel necklace
from Ann Taylor and an earring like this
drop pearl where it brings itself a little forward by having the second pearl drop underneath the ear lobe. Like I said above cuffs are a go to accessory for a Minimalist look
choose one like this one from Tory Burch with just a bit of details to it.  Minimalist bags are all the rich and elegant ones you desire in your heart of hearts 
and covet every time you walk by them.  Choose a basic color for a Minimalist look like black, off white or a rich burgundy
.
What is Mod:
Mod is the other 1970's trend that is strong right now.  Think the way they dress on Mad Men or the way you would picture Jackie Kennedy in her White house years and bring it a touch forward to the 1970's.  So all those kind of silhouettes but with the wide legs and mini skirts of the 1970's and the big earrings and shiny boots. Mod women wear their hair in a pony tail with big earrings and window pane printed dresses.
I showed these in an earlier blog but nothing speaks more Mod to me than the window pane pattern that is everywhere.
but to me these pieces from the Nordstrom brand Halogen are exactly on trend. Mod is also about checks and houndstooth pieces
like this edgy dress from Ann Taylor.
And these crepe pants from Whitehouse Blackmarket.  But what else I think is the best part of the Mod trend is the details that you see, color blocking, studs, zippers etc.  Here are a few pieces that illustrate what I am talking about:
The detail is the stripe down the front and the buckle.
Or add the detail with the check pattern in the skirt. Or it can simply be the print of the dress or skirt or top that 
makes it Mod and then the way you put it together.  Like my stylish friend, pair this classic print dress with the boots and it suddenly becomes Mod. Mod accessories and shoes are easy to spot.
The classic Chelsea boot we see everywhere is a go to Mod shoe silhouette and so is 
the ankle strap platform.
One of my favorite Mod accessories is the patent boot.  I love it, I also love the printed boot
either of these Kate Spade New York booties could take anything you are wearing in a Mod direction. Mod accessories also include the floppy hat that crosses over with Boho
and
all those earrings you see climbing up everyone's ears and sitting behind as well as all those pearls you see in front and behind ears 
or pearls with pieces dangling below. A lot of the capes and ponchos nod to the Mod trend this season, especially the trend of belting the capes so au courant right now.
or if it has a bit of faux fur trim 
.
So the next thing is how to we marry these two trends? Well truth be told it is not that hard.  They really do kind of go together. My personal wardrobe is really Minimalist and then I add whatever pieces in each season to encapsulate the trends I want.  A great place to see the Minimalist trend in action this season is Ann Taylor.  Then just take the pieces that you love, like the patent boot or the fur trim cape and put it together.
Any printed piece
like this printed scarf can be paired with any classic piece
like this white shirt to make a perfectly mod and minimalist look or add any type of faux fur vest or jacket 
over your very classic pants and sweater and you have the two looks combined. Or be like my very stylish girlfriend and take a wonderfully simple print dress
and pair it with boots.  This look is truly the perfect marriage of the two looks.
I am going to close this shorter than normal blog with some of my favorite go to looks that I feel speak to both these trends.
Simple and fabulous dresses from Ann Taylor.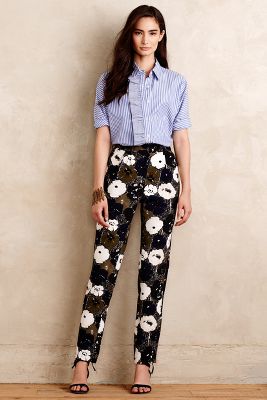 Print pants with a simple classic top. Even the newest silhouette of the season the wide leg crop pant with a classic top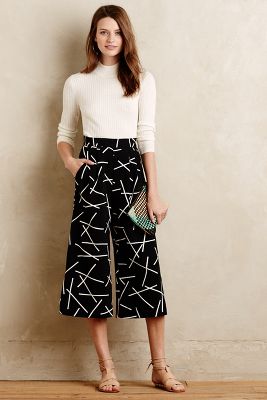 works when combining these two trends.
So the next time you open up your closet and think to yourself I have nothing to wear, so a little shopping in your own closet. I do this all the time, I pick up pieces that are my classic ones and then try all different tops and bottoms with them to see what new story I can come up with.  It really works and you will surprise yourself with all the outfits that you didn't know were even in your closet. So the next time you grab your favorite jeans, see if there is a different top and maybe long vest or short vest in there to try them with.  Or just change the heel you usually wear with them.  If you have go to Frye boots with a flat heel, try a higher heel or a Chelsea boot.  Once you get that piece on see what top or sweater works, maybe just a simple turtleneck and a big belt are all you need to make it complete.  Have fun, try new things but out of the things you already own.
I have a bad habit of always looking outside my closet for something different when truth be told I don't need any more clothes ( sure hope my husband isn't reading this blog) but sometimes the look is right in front of me in the morning and it takes me writing a blog like this to appreciate and work with what I have.  I encourage you to do the same.
As always if you want to comment or ask a question please email me at suethefashionista.com. I am available for styling and personal shopping appointments and well as coming over and helping you shop in your own closet, it may surprise you what you have.
Until next time, instead of happy shopping I am going to say happy shopping in your own closet!