As I sat this week and tried to write a hair and make up blog I realized one thing.  The reason that I feel I can write a fashion blog is that I feel I understand fashion and I worked in the fashion industry since I was in my early 20's.  I have never been a hairdresser, makeup artist or aesthetician, so how was I supposed to write with any type of expertise about those subjects? But I have to say that I am blessed and lucky to have found a few people in my life to advise me on all my hair, make up and skin care needs. So with some advice from them in the next several blogs I am going into each trend for Fall 2015 in detail from head to toe.  I will endeavor to create looks and ideas that you can use for your everyday life based on each trend.
So here is my advice on hair, make up and skin care: Find a great hair dresser, make up artist and aesthetical who you can trust.  I go to Danny Barton at Pure Studio in Vancouver who is simply the best hairdresser I have ever had.  The way he cuts my hair it magically falls back into place after even my heaviest workouts.  Find a hair dresser who makes your feel beautiful everyday, even if you are not going for a professional blowout weekly.  As for make up artists, I am very lucky, I have known Luc Lacroix from Pure Studio for over 30 years and that is about how long he has been doing my make up and giving me make up advice.  He has shown me magical looks that as I have gotten older I don't necessarily look it. I buy all my make up from Luc, I have never bought over the counter make up.  And last but certainly not least I have found an aesthetician for my skin care that is second to none.  I go to Olga at Olga's Urban Day Spa in Vancouver.  Olga knows so much is and is constantly updated her knowledge and products that I know I am in the best hands.  She has a line of skin care that she can adjust to what ever your skin care needs are.  So how could it be any better! Personalized skin care!  You have to find people where ever you are that you trust and are knowledgable.   So that is the extent of my advice about hair, make up and skin care.  Now back to what I do best.
So this blog is going to be about the 1970's Boho Trend. How to wear it when you are in your 40's and 50's, what accessories and shoes work with the look and what make up and hairstyles you may want to try with it. So let's get started:
The key to this trend is casual.  Think lots of layers and details like beads and fringes.  Boho means easy pieces, lots of denim, leather and suede.  When you think of Boho silhouettes, a dress like this one from Free People comes to mind
it has the look of Boho.  Now if you are a bit older a dress like this would look great with leggings or jeggings ( skinny denim leggings) and then tucked into casual boots.  That would be the way to wear this dress, embrace the trend and not look like you are trying to copy a style a 20-year-old would wear.
Distressed denim, easy shirts and blouses and great leather jackets like this one from Hinge ( a Nordstrom brand). This is the type of universal look anyone of any age can wear.  I may not wear it with distressed jeans but it is great with them and perfectly put together.  Wear this look with a casual stacked heel bootie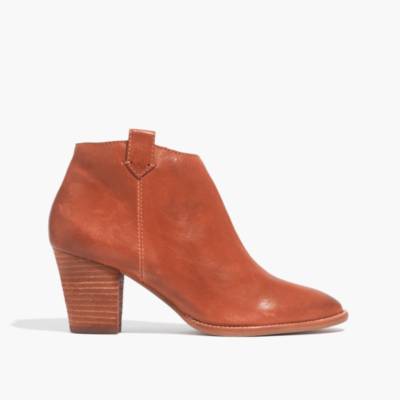 like this Billie boot from Madewell and a soft necklace that pulls everything together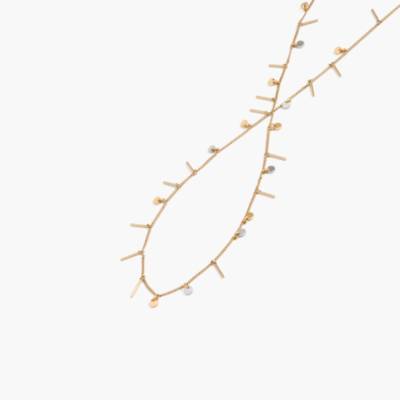 like this Sticks and Stones necklace also from Madewell and you are done.  Make up should be more neutral with this look.  No heavy eye liner or lips but use soft pastels instead and hair could be easy and a bit messy what ever the length is. Remember sometimes as you get a bit older less is more when you are trying to embrace a trend.  The type of bag I would wear with this look would be  looser style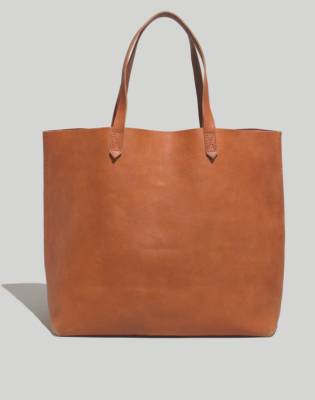 like a tote or a bucket style all in the same tones as your shoes and jacket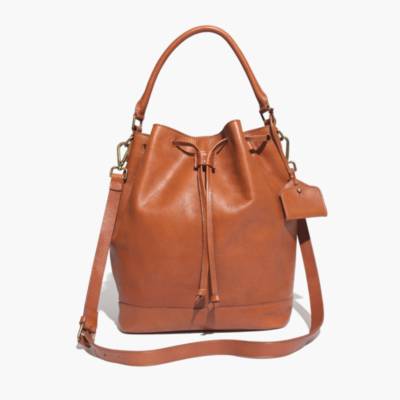 .  You could also add a bit of fringe with your bag, but mind you just a bit, less is more here for sure.
Another Boho look that is very popular for fall is the plaid shirt .
Try and find a plaid shirt that is a tiny bit understated and is not too baggy.  A shirt that actually fits your body makes you look thinner and more polished than something that is too big.
Something like this Amour Vert silk blouse would be a great compromise if you want to wear the plaid shirt trend but still look polished.  Paired with dark denim or black denim or pants on the bottom
like these straight legs 7 for all Mankind  and black heels either a boot 
or a casual style Oxford 
like these patent Steve Madden ones and you are polished enough for a casual office.  Wear it with a great silver-colored necklace
Like this Amrita Singh piece and some silver bangles
like a couple of these Kate Spade bangles paired together and you are done.  Hair for work should be what suits you best and keeps it out-of-the-way and tidy.  If you are wearing this look out for dinner or out for a lunch let your hair have a bit of bounce and wave to it.  Make up because of the navy tones works great with either pinks or reds depending on your skin tone.  Even though blue eye shadow goes with a Boho trend and you may even own some.  I strongly recommend wearing a blue pencil to like the top of your eyelid instead.  Remember to go right on the lash line, you don't want to see any gaps of skin between the lash and the liner.  Blue eye shadow will accentuate any darkness or hollows under your eye, so you really want to stay away from that.  For a bag I would also go a bit more polished but not too stiff and do something like 
this Sonia Roberts hobo style with the zipper details.  You could throw a black leather jacket over top for an edgier look
like this Trouve drape collar jacket. Remember it is on trend to let the hem of the shirt hang below the hem of the jacket, or better yet tuck the front of the shirt in to your pants and leave the back hanging out.  That is au courant.  I can also recommend wearing a poncho or wrap
like this black one from Echo and have a bit of fringe to show another aspect of the Boho trend you are wearing.
Other ways to add the Boho trend to what you are already wearing is by buying pieces that you can wear with your jeans, etc that you already have in your closet.  A Key piece for doing something like that would be adding a poncho over top instead of a jacket.
A poncho embodies the Boho trend and there are many to choose from. 
Both of the ones I have shown use an Aztec pattern with just a bit of fringe to convey the theme.  But you could do a solid color poncho as well
where the fringe is the key feature.
You could also do your accessories to convey the look of the trend instead of doing it with your clothing.
Bags with a lot or a little fringe can be all you need to change your look and embrace the trend. Sometimes just a hat will do the trick
think floppy and loose.  Or sometimes just a necklace and bracelet can be all you need to nod to the trend.
A multi layered necklace, especially one with some turquoise on it 
and  a hand  chain
is all you need to add to let everyone know you are going with the Boho trend today.
If you want to take this trend a bit dressier you can do that too.  I showed a Free People dress above.  Think floaty, easy styles and glide over your body. 
Either something colorful and shorter like this style that looks great with booties or you could wear a knee-high roughed up boot as well
like this Lucky Brand boot for casual or if you want to take the dress out for dinner try a boot with a stacked heel
like this style from Frye.  You can also embrace a maxi dress
like this 1. State floral maxi or
this muted floral maxi from Free people.  Both styles for day should be worn with flat booties or knee-high boots and for evening you could add a stacked heel boot or bootie.  You just need to be careful that the look you put together stays casual. Every once in a while if you over kill accessories or heels you can make the mistake of making a Boho maxi dress try to look like it's trying to be something it's not: dressy.   Keep your hair casual with Boho dresses.  Things like floppy hats work great and necklaces can be layered or single but not heavy.  These pieces are not something you would wear a statement necklace with.  I like cuffs instead of bangles if you prefer
just keep cuffs on simpler side with a long maxi dress.
So there you have it.  Some tips and styles to help you embrace the Boho trend.  I have a few friends who love this trend and others who wouldn't dream of even trying it.  One thing I will tell you about going head to toe with a trend in your 40's and 50's, remember less is more in a lot of cases and what ever you wear, wear it with style and confidence!
As always I can be reached at suethefashionista @ gmail.com to set up a personal styling appointment.  I would also love to hear from you at that email address if you have questions, comments or would like to give me a blog suggestion.
Until next week happy shopping!