Let's face it, none of us have the same body we did in our 20's anymore.  Even if we haven't gained the compulsory 10 ( or sometimes 20) pounds, nothing on our body looks like it did 20 years ago.  You do know what they say: 40 is the new 20 and 50 is the new 30, that all works well for attitude, exercise and employment but not with Fashion.  My mother used to say that if you were old enough to wear a fashion the first time it was in style you are too old to wear when it comes back again. To a certain extent that's true, but the rules have changed and now you just have to tweak the trend to fit your body, age and lifestyle. And remember we all didn't make the best fashion choices when we were young, so maybe it really didn't suit you the first time you wore it.
Style is something that evolves with a woman as she grows into who she wants to be. I don't know about you but I really am happy with who I am at this point in my life and I believe my style reflects that more than it ever did.  And there was no way I could have ever been at this point in my 20's.  Ok, ok enough lecturing.  This blog is how to dress you no longer stick thin body and how to embrace your curves and make them work for you so let's get to it.
The one thing I notice now that I never noticed before is that curvy and plus size women have a ton of choice in clothing today which is a huge bonus the only downside is that most of it is online and not a lot in store.  But I am a huge believer of online shopping ( just make sure you can do free returns) and I know you can find more style and better prices than in the malls and stores.
I am going to go through 3 categories of dressing for curvy woman, showing todays trends and styles and how to interpret them for you.  I really welcome questions and feedback, so please don't hesitate.
Casual Dressing:
I am going to start with Casual and weekend dressing simply because that is my favorite way to dress.
I have talked endlessly about what a great pair of jeans will do for your body.  This is even more true if you are curvy, plus or a bit hard to fit.  You really need to find denim that fits and enhances your curves.  One of the best places of well priced plus size denim is Talbots ( online in Canada only, in stores in the US).
Their flawless 5 pocket jean (which really does fit well) comes in Woman's sizes 12-24 and Woman's petites sizes 12-22.  Their regular sizes go up to 18 regular and 16 petite online and all of it is a generous fit.  This would be a great starting point for a basic pair of jeans you can wear with everything.
Their bootcut jean is a great cut for a plus size woman.  Sometimes the wider bottom will balance out a wider hip or you can do a jegging
which comes in black and sea blue and is great for tucking into boots. Talbots also has curvy fit jeans in plus, so if you have little more, they can cover it.
Every Saturday Hautelook.com features brands which are available in plus sizes.
This is from Sienna Rose, which does regular and plus size.  I love the legging because it is a black base and when you have a heavier leg, a black base always looks better. Fun and hip, this is a great alternative to denim for casual wear.
A great pair of black leggings will also go miles in style for everyone not just curvy women.  But when you have a bit more around the middle make sure you buy a legging that has a longer rise for more comfort.  This is a Point Zero plus legging and it is also on Hautelook.com from last Saturday.
Nordstrom online is a great resource for plus size dressing and has denim choices galore, from their house brands to designer.
The fabulous actress Melissa McCarthy has a collection that they carry at Nordstrom and she has lots of denim silhouettes. These are her stretch slim jeans.  And trust me the more stretch the better in denim. It make all the difference in comfort.
Now the question is how do you dress your fabulous new denim and leggings to make you look current and fabulous? Where I would start is to tell you to build a wardrobe of pieces you love, tops and sweaters that could work with denim, leggings and any other pant or skirt you may have and love.  For a larger body choose silhouettes that drape and glide over curves, nothing skin-tight and no tents please.  If you only remember one thing from this blog post please remember this: No matter how big you are, something that fits your curves will make you look smaller than a huge top that tries to hide them. It is 100% true, 100% of the time.  That is why maternity styles have become more fitted as well.  No one wants to look like a whale so don't dress like one!
A great top like this, notice the fitted hem ( from Sienna Rose) will work great with denim and leggings and also a bit dressier with black pants.  It just floats over curves and creates the illusion that they are smaller than they are.
Or try something with lots going on.  Draw attention up your body to your beautiful face and away from your stomach or legs. I also love this look
where the blouse is just a bit longer, great over skinny jeans too.
And a casual jacket is never wrong.  Worn with a t-shirt and jeans it just adds a bit of polish.  Look for clothes that don't hug but glide over your body.  Choose fabrics that are good and will keep you cool as well.
Talbots online has the same styling in Woman's sizes that they do in regular.  So this is a perfect cardigan in a ton of colors to have in your wardrobe. Just make sure it is long enough.  Notice it just hits the model's hips, a cardigan should not go lower than that, it won't be flattering at all.  Buy a woman's petite size if you need to in order to get the right length.
Casual shirts and denim shirts go miles in a casual wardrobe.  Talbots online has lots of great options for you to choose the pattern and style that fits your body.
Nordstrom online has a lot of their house brands like this Halogen sweater
in plus sizes.  They even have Eileen Fisher plus, which is the most sophisticated casual wear I know of. Fun pieces like this Daniel Rainn top are all available and for a good price.
Definitely worth checking out.  This piece is great because the details are subtle, the color is fabulous and it would work with denim all year round!
If you are tall enough to wear it, I love a long duster look with skinnier pants.  Especially great on a bigger woman.  If you are not that tall, choose a jacket style that finishes at the bottom of your hip and not your knee. that way you won't look short, but longer and leaner.
Ok I think we have talked enough about casual wear.  I encourage you to go online and look at all the sites I talked about above.  I could go on about casual plus size dressing all day but we have way more to cover and only so many words to do it in. So let's move on.
Business Attire:
Every woman needs a few great items to wear to work, meetings and networking events.  I have talked about business attire in previous blogs so right now I am just going to give you ideas on how to dress a bigger, curvier body to get the right attention in a business environment.
Let's start with a great dress that you can wear to work and then out for a business dinner.  This is a knit dress from Talbots.  Even with someone who is a size 2, you need to wear shape wear under knits and especially under knit dresses.  Make sure you have gone and gotten some, with expert advice from a store that specializes in lingerie so you have a couple of staple pieces to make a dress like this glide over and not hug your curves.
Or go for a dress that has a great color and gives you a bit more room in the hip.  Also from Talbots online, this fit and flare dress is fab on a curvy body.
This Wapi wrap style dress is all business and it is on Hautelook.com.  It is a tad shorter but would be fabulous with a black tight and booties as well for the office on a winter day.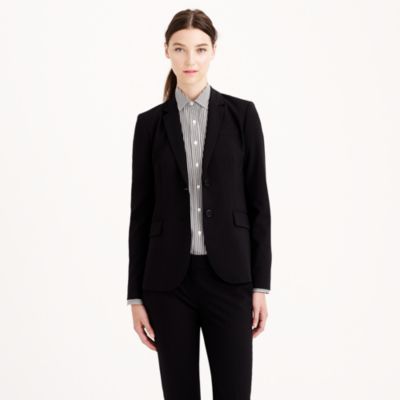 Quite a bit of the J.Crew suiting I showed in my what to wear to work blog is available up to size 20.  Everyone needs a good suit.  A stong dark color with pieces you can wear together or apart.
This stunning color is from Talbots once again.  I am going to ask you to try something other than black just for a change this fall. But please pick a color like this burnt currant that will work back to black basics as well. 
I am a huge advocate of buying all 3 pieces in a suit that will match.  This way you never have to worry about whether your skirt or pant matches your jacket. This is Talbots seasonless crepe but they have lots of other fabrics and styles online.
Nordstrom online has fabulous plus size work options.  I love this Tahari
classic dress. It comes in lots of colors and would be great in any office environment. This Classiques plaid jacket
would be a great piece to have in your work wardrobe. Worn with black pants, skirts and even over dresses. There is so much variety and style at Nordstrom.com that you just have to go look for yourself.  You can find what you like at a price you like.
For a great business look think about belts and accents as well.  A black belted blazer will define your waist.
Sometimes the belt you wear with your jeans would look great on the waist of your jacket as well. When you are curvy you need to define some features on your body.  Your waist is a great place to start. Above I showed a dress with a skinny belt, it just draws your eyes to the model's waist and makes her curves look less obvious. One last look that will work on any body for an office look especially if you work in a creative environment is a long top over a skinny bottom with a shorter jacket on top.
Think something like this look but swap the lace skirt for any slim skirt that is office appropriate.  Or to make the lace skirt office appropriate wear a black tight and lower heel bootie with it.
Grab a textured knit jacket like this one from Talbot and change the underneath piece to a lighter color
like this sleevless mock neck which sits a bit lower than the jacket and pair it with a dark bottom and voila! You have created the illusion of length on your body.
Evening dressing:
Last but certainly not least let's talk evening dressing.  Now evening dressing can be anything from drinks out with friends to a Gala event.  Your jeans and a dressy top could work for a more casual evening out.
Just make sure you choose a top that works for your body.  Again from Sienna Rose this cold shoulder chiffon top works great over denim and then you could wear it dressier over skinny black pants or a pencil skirt. If you have been reading my blogs for a while then you know how much I advocate owning a black lace skirt.
This one from Nordstrom's house line Halogen is perfect.  For a business dinner or dinner out with friends that is a bit dressier wear it with a turtleneck and boots. For a party wear it with high heels and a chiffon solid top.
This type of fitted waist drape fabric blouse would be fabulous with the lace skirt above.
Then there are really dressy events where you absolutely need a dress.
Look for something like this Wapi dress, notice the detail of the hem and the V of the neck.  Both very flattering details on a curvy body.
Or glam it up in a simple sheath dress with great details like sequins and a draped back. Pisarro nights from Nordstrom online.  
Chiffon is one of the best friends of a curvy girl.  It really drapes and glides over curves and imperfections to hide them.  I love this detailed sheath with wide sleeves from J. Kara for an evening event. Or sometimes you just need a long dress.
Stick with a darker color.  I love the embellishment at the waist and the open sleeves.  My eyes are drawn to all the details and not to problem areas.  Also J. Kara at Nordstrom online. Talbots has a great lace sheath dress
in 3 colors that is a bit more fitted if that is something you are looking for. Again my eyes are drawn to details like the lace sleeves and not to the models waist or hips. Embellish your dressy look with fabulous jewellery that draws attention to your face and pick a heel that you can be comfortable in.
More and more shoe manufacturers are remembering the curvy girls.  Choose an ankle strap that isn't too wide if you have a heavy leg like above. Choose a bootie that ends at your ankle and not mid calf to give the illusion of a longer leg ( works for me!)
A silhouette like this Vince Camuto bootie works with dressy dresses and skirts, in the office and with jeans as well.  And if you are looking for higher boots, quite a few brands make wide calf boots.  I know Madewell has a fabulous pair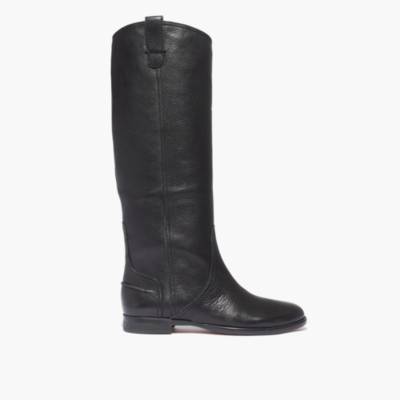 the Archive boot comes with an extended calf and is one of the most comfortable boots you can wear.  Great for tucking in skinny jeans and pants as well.  A great look for making legs look longer and leaner is to tuck black skinny pants into boots. Nordstrom online has 2 pages of wide calf boots.  Dressy and casual all just a click away.
Every woman needs a great pair of high heel boots like these from Charles David.  Look for stretch fabrics in boots for your dressy look.  You don't need a shiny leather to draw attention to a wide calf.  Save the shiny leather for your casual boots.
I have gone on long enough.  I hope that this inspires you to try some new looks and venture out of your comfort zone if you are not perfect ( and really who is!). Online is a great for buying plus sizes, prices are always better too and they never seem to run out of your size.
Please email me with questions or comments at suethefashionista.com.  If you want a styling appointment just email me as well, one of my specialties is dressing curvy women. Enjoy and remember to accessorize and feel great in whatever you are wearing.  Confidence and attitude will go a long way in making your style great!