I think I am in love with accessories this fall.  Actually my affair with accessories started about 8 years ago.  I was walking by a store window and saw a mannequin wearing a pair of jeans, shirt, belt and a really great necklace and scarf and I thought I can do that! I just said to myself, my kids aren't babies anymore it's time to take it up a notch.  There was no one pulling on my necklaces and earrings or asking me to play with my bracelets anymore.  So I decided it was time to start accessorizing.
If you are not wearing any accessories than this is the season to try to take it up a notch.  You don't have to crazy but maybe a couple of necklaces, bracelets and scarfs just to add a bit of oomph to your everyday.
Accessories cover jewellery, scarfs, wraps, hats and of course our very favorite bags and purses.  I will go through each category and show examples and how to wear them.  But take a look around when you are with a lot of people, see how women whose style you admire are wearing them and what they are wearing.  Remember imitation is the sincerest form of flattery so ask her where she got her bag, scarf, necklace and go there and see if there is something that fits your style.
Necklaces, Earrings and Bracelets
I adore statement necklaces this year.  What is a statement necklace you ask?  Well it is a necklace that you can wear that pulls your outfit together or puts a dramatic finish on what you are wearing. It is no secret that one of my favorite costume jewellery lines is Eye Candy LA.  I haven't been able to find it in Vancouver but they sell it at Nordstrom Rack and Hautelook.com
Wouldn't something like this look great with a white shirt and a pair of jeans and boots.
I love something like this with a grey cardigan and skirt or pants to take your business look to the next level.
Or go as simple and elegant as this rope necklace.
Another big trend in necklaces that is strong for fall is layering your necklaces.  I do this more with simple necklaces like the rope one, I really feel a statement piece like the two above should stand on its own.
But when I want to layer I look for necklaces that already come layered.  This double bar necklace ( also at Hautelook.com) has one bar sitting at your neck bone and one about 2 cm lower.  It is a perfect layered look.
Or layer yourself.  Use a heavier piece like this tortoise-shell lock necklace that is down to your waist and then a couple of more delicate necklaces at 2 different shorter lengths.
Maybe chose something like this for your shortest length and then
this for your middle length.  Or just look for them altogether and not worry about it. But there are lots out on the market that are already layered so go for one that is already put together for simplicity!
All of these work and they look great with crew neck sweaters and t-shirts or turtlenecks or with a shirt done up all the way to the top button and then layered over top.
I also just love a long necklace that really makes a statement. 
Something like this from Kate Spade would really look great done simply with a fitted sweater over a skirt for a sophisticated look. Or pick something stronger like this
great with jeans and almost any top.  Adds a bit of Boho to your look.
Use your necklace to hit on the fall trend you want to do.  So a Boho or Mod look can be done with a long, layered necklace for Boho like this
with your jeans, white t-shirt and chunky heel boots.  Then layer a long sweater over top.  Or if you want to go Mod pick something chunky like this choker 
which by the way also would work with a simple minimalist look as well.  If you want to rock the Victorian trend.  Great accessories are the way to do it. Pick pearls and pendants that look like they belong in the Victorian age
. Or wear a simple strand of pearls
that sit at your throat.  To make the Victorian trend pop even more you could add a brooch to the collar of your shirt when the button is done all the way up. 
Something like this would work with a longer necklace over top or nothing at all. Layered strands of pearls scream Victorian and we all have lots of layers of pearls, at least I do because my mom had real and faux pearls in every length known to man.  Buy faux pearls for fun.  I wear costume jewellery for trendy purposes and my 'real' stuff for sophisticated things.  Remember sometimes less is more and sometimes more is perfect, so you have to tailor how many pieces you wear with the occasion. To the gym or out running errands less is more with accessories but an evening out with a simple outfit you can layer more accessories on.
The trends in earrings are many, of course the classic big and small hoops never go out of style.  Neither do small drop earrings.  But some of the trends that started last year, like long chandelier earrings and earrings with a  detailed back have stayed strong for fall.  I always match the style of earring to the amount of accessories, that being said I never match my earrings to my necklace.  Never. That was how your mother wore things.  It looks much fresher if your earrings complement your necklace and bracelet and don't match.  So no pearls with pearls etc.
This picture depicts the trend of detailed backs on earrings.  I don't like the look on me but I do like the look in general.
Sometimes it can be quite an elegant classic look.  I do encourage you to try it and see if it works for you.  Another big trend is earrings that climb or frame your ear.
A look like this would be fun for a Boho or Mod look and even with the  Minimalist look as well.
Double pearl earrings like this, where you have the stud and then the pearl below your earlobe as well would be great for a Victorian influenced look.
And here are move sophisticated climbers.  It's really up to you how you wear your earrings.  If you want to try the trends I think that's great.  I really like hoops so that seems to be what I tend to stick with.  Big and fun if I am feeling Boho and small and elegant if I want to go Minimalist or Victorian. One last earring look to show you before I move onto bracelets
these are really trendy right now, you see the fan under your lobe and if you wore these you would be right on.  They are fun and don't spend a lot of money on trendy earrings, they could all be out of style soon.
I wear bracelets almost every day.  My favorite bracelets are bangles.  I find they work with almost any look I am trying to put together. 
I like to stack them. Sometimes I mix colors and textures but I love the way they look.
I also love layering faux pearl stretchy bracelets and solid colors together.  There are some great trends in bracelets
you can mix fun beads and tassels ( very Glam-Goth if you wore this bracelet).
I love the wrapped leather cuff look for a great piece with your Boho clothing.
There are all kind of cuffs on the market, different colors and textures. I have small wrists so cuffs don't work for me but I love the look. One other interesting look that is really tied to the 1970's style resurgence is the look or hand chains and body chains done very delicately.
Kind of like this wrist to cuff look where your ring and bracelet are actually one piece. 
Here is how it would look on your hand.  For a body chain it is a chain that goes around you neck and waist and is connected.
Both looks are very au courant and you can try them.  But a word of caution, if your daughter or niece or son's girlfriend is wearing it, you may not want to.  As you get a bit more mature sometimes it's wiser to leave trends like this for the immature.
Now onto one of my favorite subjects: Purses!
There are so many wonderful ways purses and bags can add to your outfit I will have trouble getting it all out in the word allotment I have left. As I sit at my desk scripting this blog if you looked behind me you would see an assortment of different shapes and fabrics in some of the bags that I own.  I keep some under my desk in the kitchen for easy access and all my treasured ones are upstairs in bags in my closet. This season I am waiting and looking to find the perfect saddle bag that I can wear cross body that is neither too big or too small.
I simply love the look but have yet to find one I want under $1000 so the search will continue.
Here is a $400 one from Rebecca Minkoff but believe it or not I don't want black, I want it in a garnet or burgundy, so again my search continues. I love the look of something classic and elegant as well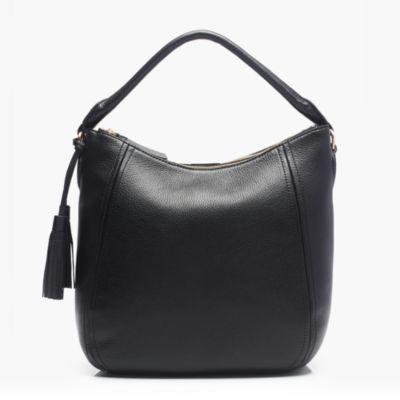 I have been saving this picture of the classic Peyton hobo from J. Crew on my computer just for this post.  I think this is one of the most quintessential bag styles out there.  Everyone should have a good hobo bag.  It goes with almost every trend and hold a ton of stuff.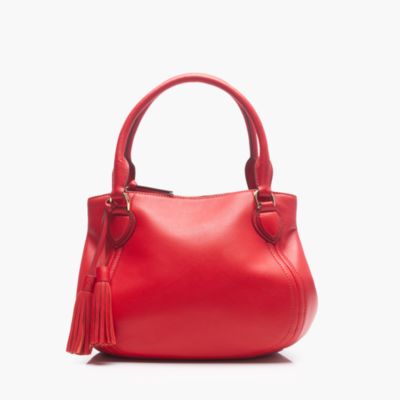 Nothing beats a great satchel style bag either.  Timeless and classic.  You could do variations of the satchel in large or small or go with its sister and lean to a doctor bag style
one of my personal favorite styles of bags. Last season brought us in the bucket bag.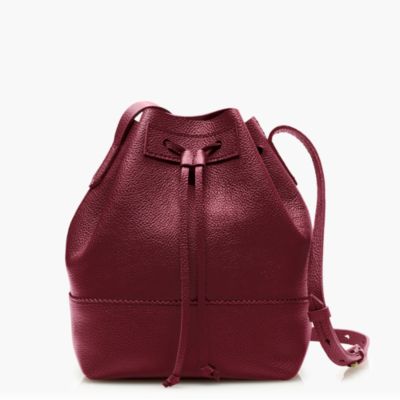 It is still very strong for fall and I love this color. Just make sure it is easy to close.  You don't want anyone else's hands in your purse.  Lots of women love cross body styles, especially if you have young children and want to keep your hands free.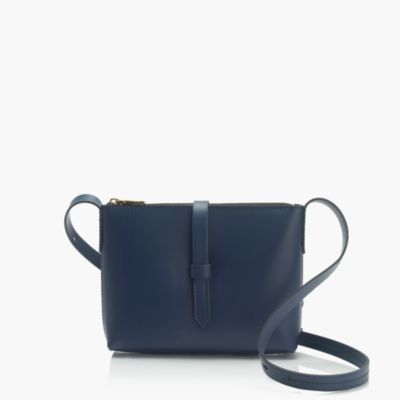 There are a ton of cross body bags on the market, just make sure it is big enough for what you need to carry.
And of course no wardrobe would be complete without evening bags.
I love a minaudiere style with a hard cover and a clasp on top.  The envelope clutch is also strong
for an evening bag look.  I believe you collect evening bags, when you find something detailed that is beautiful you buy it and add it to the collection. My mother believed this too so I have some outstanding evening bags from when she worked in New York in the 1950's and I have added to that same collection putting my own personal touch on it.  I do spend a bit more on evening bags but these are things I plan to pass down to my children like my mother did with me. And I truly wear the evening bag I carry as an accessory to my outfit.  Not everyone does and that's ok.  But I do because I really love the look of a classic petite lace minaudiere with a classic black dress.
These two are from Kate Spade New York, available at Nordstrom and this is some of the fun you can have with an evening bag if you are so inclined.  I have a Kate Spade from a couple of years ago that is a clock face.  It starts conversations whenever I wear it.
A couple of last words about scarves and wraps.  I really try not to make my blogs too long but they are part of the accessory wardrobe you should have.  I wear scarves pretty much year round. One of my favorite scarf vendors is Anthropologie, they really have lots and lots of great scarves that work with all wardrobes.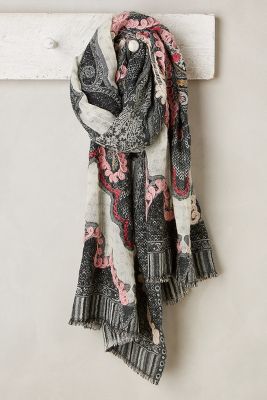 Here is an example of something they are showing for fall.  It goes with all the greys out there and has a Victorian twist to the pattern.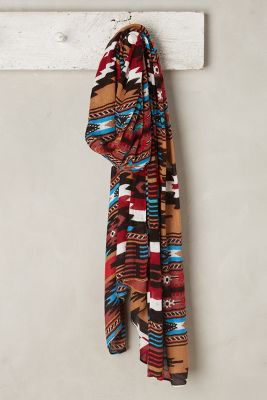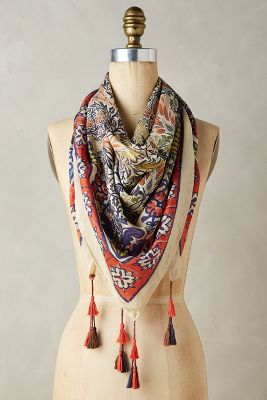 Colors textures and lengths abound and I strongly encourage you to take a look on-line or in store and find one that hits all the notes you want to hit for fall.  Of course we live in a climate where in winter we need to keep warm.  Nothing better than a classic cashmere scarf for that
pick a strong color to offset those grey days and all will be well.  I spoke a bit about wraps when I did my outerwear blog but every woman needs one classic wrap to wear as an evening look. Something like this with faux fur along the bottom
would be the perfect piece to take you out to dinner and beyond.  I love the faux fur trim and it is so on trend right now for both the Minimalist look and the Glam-Goth and could also be a bit Victorian.
Now I am over my alloted words for a post, but I hope you got what you needed to in order to purchase a few new accessory pieces for fall.  Have fun with the trendy pieces you buy.  And savor the investment ones you buy as well. I am going to try to get all the fall blogs done by the beginning of November for you all.  In November I will be going to one blog per week and will start to talk about holiday dressing, hair, makeup etc.  My next blog will be up the end of this week and it is for all my curvy ladies, I am going to write about Plus size dressing and how to interpret the trends for you.
Until then I can always be reached at suethefashionista.com and am available for personal styling appointments starting again the end of this month.  But I am always happy to answer questions and point you in a direction if you are looking for it.
Happy shopping!!!