As October is upon us, before we know it we will be searching in our closets for our coats.  They always say March and April come in like a lion and leaves like a lamb. Well, October is just the opposite.  For most places in Canada and the US, the weather is still fine.  A bit cooler, maybe you need a jacket but you are certainly not searching for a down jacket quite yet.  But by the end of October, if you live on the west coast you are looking for your warmest rain coats and in the mid country and the east there is a chance kids are trick or treating in the snow.  So it is time to take a look at what you are going to wear as your outerwear this winter.  And how to keep warm, dry and above all else stylish.
Trending this fall is a lot of things that could be worn indoors and outdoors.  Boho is a really strong trend this fall as is Minimalist.  So with both these trends you see a lot of ponchos, wraps and sweater jackets than we have seen the past couple of years. If you spend the winter in a place like Arizona or even southern Texas these may be all you need for your winter outerwear.  But for the rest of us these are the prelude to the warmer items we will be wearing come November and on.
I love the look of ponchos and wraps on women.  There are some fabulous silhouettes out there.  And nothing is more elegant than a beautiful wool wrap or cape over a dress to me.
There are all sorts of ponchos and wraps on the market.  This one is by Woven Heart and it is at Nordstrom rack.com.  Look for a casual fun one that has strong colors and of course a higher neck if you want to wear it casually with your jeans. Or you can take the same designer and wear a cape over a dress
like this.  Even designers have gotten into the poncho and cape trend
this Theory wool poncho is also at Nordstrom Rack.com.  You can really have fun with a poncho or cape and make it playful.  I have one from two winters ago that is Steve Madden and it is a little boucle knit poncho with a fur collar, I get a ton of compliments whenever I wear it and it keeps me cosy. The big Boho trend this year lends itself to do different patters, so far I have only shown you ones with a plaid pattern but there are lots of cool and unique prints out there as well.
I love the Aztec pattern to this poncho at Anthropologie.  It is fresh and modern and a little more hip than the plaid ones I showed above. And because fringe is so strong with the Boho trend as well, you can feel free to pull out your old fringed wraps from a few years ago ( as long as they are still in tip-top condition, if not turf it and buy a new one! I mean it!). Here is a fringed blanket wrap that they have at Nordstrom this season
wearable and wonderful and under $100.  If you are not big into fringe on your clothing ( I really am not either) the fringed wrap or poncho is a great way to give a nod to this trend without really investing in it.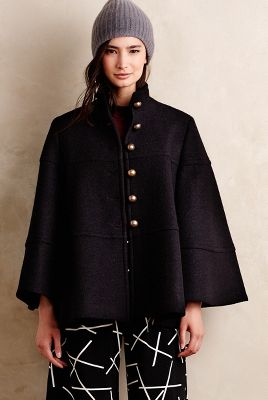 One last cape I want to show is this more formal looking piece.  It is from Anthropologie and this cape would be great over a suit for work or even a dress.  Just a bit for sophisticated for those of us who spend our time in meetings and with clients.
Anther piece that you could wear as an outerwear piece right now and as a layering piece later is the vest.  They are showing quite a few vests as outerwear and layering pieces this season.  And the new vest fits right in with this falls big trends.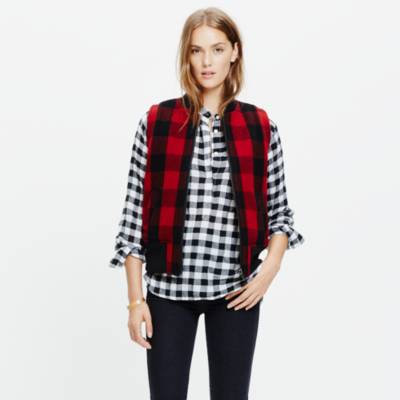 How fun is this plaid vest from Madewell.  I love the bright colors.  Or you could go for one of my go to items, the quilted vest.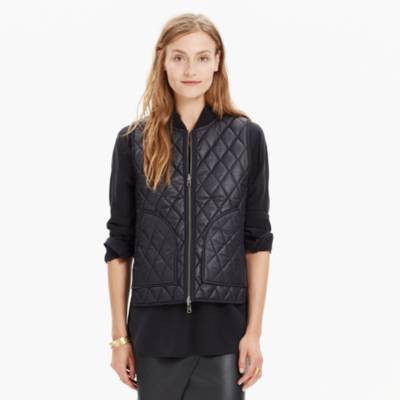 This one is from Madewell as well and it happens to be on sale on-line right now.  
Talbots is showing this faux fur collar quilted vest for fall. I wear my quilted vests now over sweaters and then later under coats on those very cold and damp winter days.
Another big vest trend is the shearling and faux fur vest trend.  Again it nods back to the 1970's trends.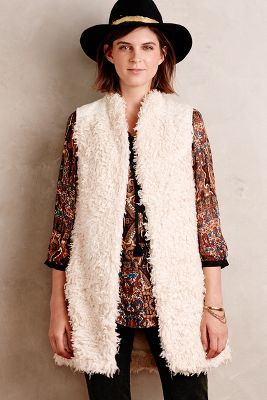 I love this shaggy embroidered vest from Anthropologie.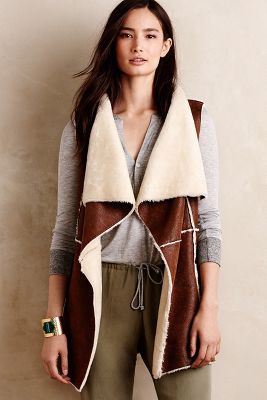 Or you can do the shearling vest from Anthropologie as well.
Talbots has one as well for fall, a bit shorter than the one from Anthropologie.  
And I love a faux fur vest.  This one is at Nordstrom and it's from Splendid.  I have two faux fur vests, one in black and one in brown and I wear them quite a bit in the winter.  I find that the faux fur can go a bit further than the quilted and shearling if you need it to for business or a dinner out.  Or when you just want to look a bit more polished than hip and casual.  That is when I pull out my faux fur vests.
Here is this year's version from Talbots available in both brown and black faux fur.  I really do wear mine a lot and can't recommend a fun, trendy piece to add a little oomph to your fall more.
As I mention above, right now wear your vests as outerwear and then in another month or so use them as layering pieces under coats and jackets for a bit of trendy warmth.
Fall jackets come in all shapes and sizes.  A jacket is usually shorter and more casual than a coat. I own a lot or jackets and a few coats.  I tend to buy jackets as fun pieces and coats as statement pieces.  But it really depends on your lifestyle and career.  If you wear a jacket and suit or dress everyday to work, then you need to spend your money on coats that go with your look.  If you  are like me and live in denim then you can have more fun jackets than coats.
ONe of my new buys this fall is this quilted, hooded jacket from Talbots.  I love the length, it's perfect for jumping in and out of the car and I love the color.  Nothing better than wearing a bright color on dreary grey day.
Talbots also has a longer version, no hood on this one if you prefer to have something that comes a bit more over your bottom. Another great jacket for early fall is a leather jacket.  So on trend this season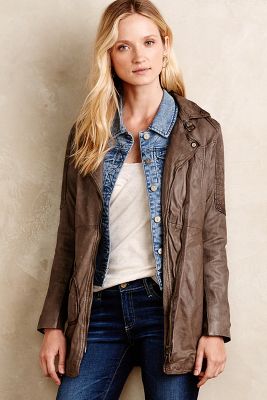 this washed leather jacket from Anthropologie is certainly Boho enough for that fall trend.  Or slip on a motor style jacket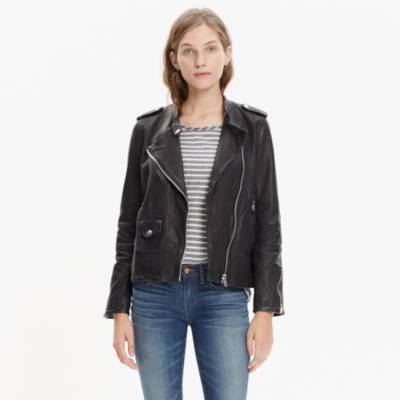 like this one from Madewell.  I think I told you in a previous blog I have a Joe Fresh motor vegan leather motorcycle style jacket that I pull our and wear as either a blazer or outerwear piece and I love it.  You don't have to spend big bucks to get the look.  There are also a lot of motor style jackets in other fabrics other than leather. A great ponte knit motor style jacket would be a great alternative to a blazer for work.
I think this faux suede fringed jacket from Hinge at Nordstrom is great inexpensive piece to play with the Boho trend this fall if you want to. Or take our favorite denim jacket and add a little faux fur for fun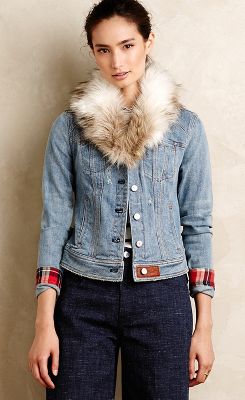 like this denim jacket at Anthropologie.  Use your jackets to not only keep warm but to have fun.
Coats come in all shapes and sizes as well.  This fall every magazine and blogger is talking about statement coats.  What exactly is a statement coat.  Well, this season the definition is a bright or strong colored, below the knee, double or single breasted coat.  The neckline can either be collared of a stand up collar.  And this season it is a big trend to accessorize your statement coat with scarves, belts, brooches and wraps.
First let's talk about coat styles. 
Coats can be as classic as this brushed style from Talbots. They can be classic with trim
like this one by Ellen Tracey and available at Nordstrom Rack.com. They can be belted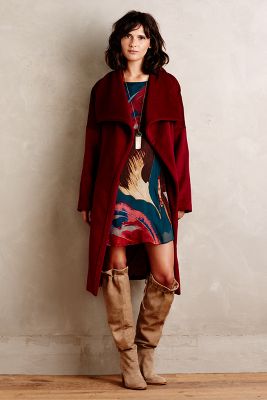 Like this Fulton robe style coat at Anthropologie.  But you can see the one thing they all have in common.  They are long and they make some sort of statement.
I find coats a very individual thing.  I buy coats like the ones above in classic colors and styles and they last me for years.  I am still wearing 2 classic coats I got from Mr. Jax when I used to work for them many moons ago.  They are just simple and classic and like all good classics they will never go out of style.  But I also have some fun coats and more trendy coats as well.
If you like in Canada or the North or Eastern US you need to have coats that really keep you warm.  You need a puffy coat. Puffy coats come in all lengths and some winters you can even buy them at Costco.
This puffer is from Nautica outerwear and today it is in Hautelook.com.  It is classic in black and has a faux fur trim hood. They also have a shorter version
if you don't want one that is so long. One of the best places to buy a puffy coat is Eddie Bauer
they do a truly warm and water-resistant parka style like this for a decent price.
Another kind of coat you can have fun with is a faux fur coat. You can either have fun with faux fur and wear an interesting color
like this Sam Edelman one from Nordstrom or you can buy one in more of a classic color like
this Ellen Tracey one also at Nordstrom.  But I think faux furs should be fun and trendy and don't spend a lot of money on them.
Maybe this is the year to buy a fun faux fur and make that your statement.  Just make sure if you buy one like this cheetah print form Via Spiga it doesn't look cheap.  You don't want to come off looking like Peggy Bundy.
I live in Vancouver so a big feature for me when I buy a coat is if it is waterproof.  Nothing is worse than on a November or January day when it is drizzling and just above freezing than realizing your coat is getting wet on the inside. So I tend to stick with styles that keep me DRY and warm, like a classic trench
Like this one from Michael Kors for business meetings or over a dress and styles like this Andrew Marc parka style
that has a hood and does all the way up to my neck and covers my backside for casual. But decide for yourself what your needs are. You don't always have to spend a lot to keep warm and dry.  Check out Nordstrom Rack and Eddie Bauer.  Or if you have quite a few coats from last season that still fit and look good then one of the best way to buy new ones is to wait for the sales. Coat sales usually start right before Christmas and I have gotten some amazing deals on coats online and in stores in January.  But that is only if you can hold off that long.
One way to freshen up something from last year is to put a scarf or wrap around your coat.
Take a scarf that has this season's colors in it and use it as the piece that makes your coat on trend.
This reversible wrap from Talbots would look fantastic as an accessory over top of a classic coat or wool jacket.  I personally love that look.  That was a go to of mine when I travelled the prairies in the winter.  My warmest coat and a wrap over top that I could also wear inside instead of a sweater when it was cold.
I will go into a lot more detail about accessories and how to wear them in my Accessory blog which was supposed to go up on Thursday Oct 5 but because of a few things going on my next blog and it will be about Accessories will be on Thanksgiving in Canada and Columbus Day in the US, Monday Oct. 12 instead.  My apologies for only getting up one blog this week but what can I say, sometimes life gets in the way. Also stay tuned for a special blog about Plus Size dressing coming to you on Oct 15 and then my good friends and styling professionals Luc Lacroix and Danny Barton are going to help me explain fall hair and make up trends.  So the rest of October is going to be full of ways you can enjoy fashion and look great.
As always I can be reached at suethefashionista.com for suggestions or to book a personal styling or wardrobing appointment.  Until next time!