Change is inevitable.  I have 2 children and one of them hates change.  Even if something is old and broken he hates to change it for something new and fresh.  There are a lot of people like that.  They are comfortable where they are, with what they have and what they do.  I say that's a nice place to be but come on, isn't it a bit boring to never have anything change in your life.  If that is the way you feel about the clothes in your closet then my friend, you are in a fashion rut. Fashion ruts happen to the best of us.  It's kind of like wearing a uniform, you don't have to think about it you just put it on everyday. The one lesson that everyone should embrace from reading this blog is change is good.  Change is inevitable so embrace it and make it work for you.  This weekend I took a huge step and cut my hair from half way down my back to between my chin and shoulder.  Change is good, embrace it!
We have talked a lot about the trends for Fall 2015:  Geek-Chic, Victorian, Minimalist, 1970's Boho and Mod and Glam-Goth.  Embrace any one of these trends and try to make it your own.  You can be brave and embrace them all or you can do what I do and try to take pieces you like from each of the new trends and add them to your wardrobe.  Certain pieces will make the classic pieces, like that black dress look brand new!  Remember embrace change and leave your fashion rut in the past.
Today we are going to talk about what is new in pants and skirts for Fall 2015.  Since we already talked about Denim you know the shapes and styles that are in the stores now.  But how do those  trends work in a work pant or in a skirt?  I know no one wears jeans 24/7 even if that is your ideal it just can't happen.  Every once in a while you need to put on a pair of 'dress' pants and a skirt.
Pants:
The biggest new trends in pants for fall are the wide leg pant and the culotte .  Online and in magazines you will see tons of both.  Straight leg, Skinny and the jogger are also still in for Fall 2016 and if you have any of them from last year likely you can wear them for another season.
What I love about the flare leg or wide leg is that done with a higher waist they make waist lines look tiny.
This Devlin flare trouser from Ann Taylor is added to their 'Iconic' collection, in other words they believe it is a classic that will continue. The wider leg looks great with a heel or stacked bootie. It would also be great with a wonderfully detailed belt around the waist.  This style of pant works great with a cardigan that ends at the waist or a shorter blazer.
Nothing too long. You want the curve of your hip to show.  When we talked about wide leg jeans I mentioned a very fashionable friend of mine who wears wide leg denim trousers and short little jackets to meetings.  She always wears a heel and the jacket always grazes her waist so everyone can see the curve of her hip and she owns the look and looks fantastic, by the way she is only 5'4″ so if she can pull it off so beautifully so can you.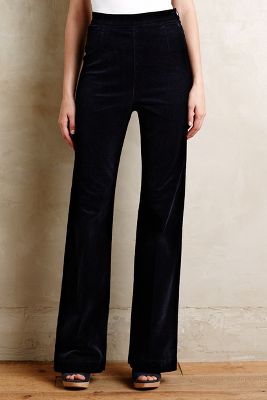 For a more casual look in a wide let pant go for a softer draped fabric like this pair of Alexa Chung for AG Laura trousers at Anthropologie.  They are in a cotton-lycra corduroy that you can machine wash and they would look equally great with high heels and a frilly blouse or with a T-shirt and chunky heeled booties.  I don't venture often into pants that are wide leg but I do have jeans with a flare and I am not slim but they are very flattering.  The key to the wide leg is keeping the portion of the top right so that you don't have a long layer over a wide layer.  With the pants above what you wear on top needs to end at the waist.  All this hails back to a 1970's Boho look so play with Boho jackets, tops and accessories with your wide let pants.
I am going to be honest I don't really like the culotte  pants for fall 2015.  I remember a student teacher who wore them when I was in high school and as my mother used to say if you are old enough to remember when it was in style before you are too old to wear it again.  Now usually I disagree with that because Fashion changes so quickly but with the culotte I completely agree.  So this is one trend for fall I am not embracing or will I try.  But if you want to there are lots of different pairs out there at every price. Not everyone calls them culottes, some call them shorter wide legs but they are the same thing.  If you need ideas on how to really rock the trend go online to Instyle and see what they are showing.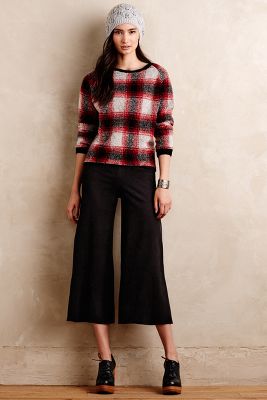 Here are a pair of Level 99 suede culottes from Anthropologie.  The model makes it work by wearing a shorter top that again stops at her hip line and that would be my recommendation of how to wear the look.  You could also do them a little more sophisticated by wearing them with a tucked in top and boots.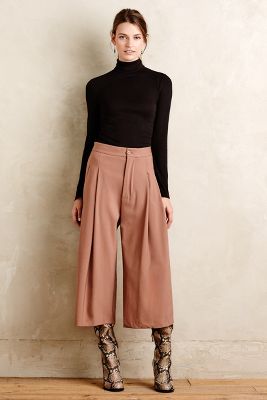 Then you absolutely define your waist which the key to being able to pull off the culotte without looking like you are bigger than you are.  Like I said a couple of sentences ago, this look is not for me.  I am not nearly tall or thin enough to pull it off.  But that is the beauty of trends, if it's not for you don't wear it.  Out of all the trends for fall there are quite a few that I love, so it's perfectly fine if I leave the culotte for someone else.  Like I always say, you really have to look in the mirror and love it.  If not, it is not for you.  Culottes are definitely a nod back to the 1970's pair them either with Boho accessories or Mod ones to make you look on trend.
There are lots of ankle length pants being shown every where for fall ( now this is a trend I can totally embrace!).  Ankle length pants are flattering on every body.  Tall, short, curvy or thin, there are a pair of ankle length pants out there with your name on them.
Here is a classic pair of ankle pants from Ann Taylor.  I love this look, it's clean and sophisticated ( think Minimalist).  Clean lines make this a beautiful pant. Wear them to work with a heel or bootie and a long cardigan or a short cute jacket.  Also it looks great with the new vests that are a bit more tailored or a little longer.  This pant would also be great in the evening with detailed shoes and a lacy blouse.  Lots and lots of possibilities.  Just make sure that the pants come to your ankle not below.  If you need to buy a petite length to achieve this then do it.  Nothing is worse than an ankle pants that doesn't sit at the ankle.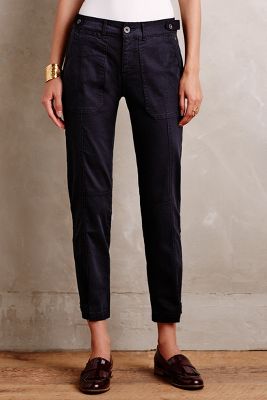 For a casual look try ankle length chinos.  I love these Pilcro Hyphen Utility Chinos from Anthropologie.  They come in lots of colors and are great with loafers and booties. 
Try these plaid Trouve trousers from Nordstrom ( opening Sept. 18 in Vancouver!) with its matching jacket
to make a unbelieveabley chic suit for fall.  Yes, the jacket is longer but the ankle pant can take it.  I will wear my ankle pants with a longer sweater and boots when it's cold out and tunics or blouses and shorter jackets when it's not so cold.  Versatility is the middle name of the ankle pant.
The last pant I am going to talk about is the jogger.  I actually have embraced the jogger because I found that if you buy one that is the right proportion for your body it will look great on you.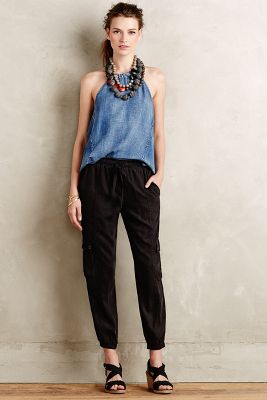 These safari joggers from Anthropologie work great in the summer with a sandal and in the fall with a bootie.  It's a nice trend to try if you love a comfy pant and want a change from denim.  You can try them a bit dressier
in a softer fabric with elastic bottoms and heels like these Trouve ones at Nordstrom, or you can wear them super casual 
like these marled Joggers from Whitehouse BlackMarket and wear them with leather runners and a great detailed sweat shirt and embrace the sporty look that is still strong for fall.
Most Joggers hail to the sporty look and can be paired with a Geek-Chic trend.  Loafers, oversize sweaters with patterns etc.
Now onto skirts for Fall 2015.  There are really no brand new silhouettes for fall that you haven't already seen.  The pencil is still super strong, especially for work wear.  The softer fuller skirts are strong and so are the midi skirts.  Even mini's are still at play for Fall, so wear what looks good and what you feel best in.
90% or the women I see and know can wear a pencil skirt.  It is one of the most flattering silhouette's out there.  New pencil skirts for fall are grazing the knee or coming just below.  But you can still wear them right above if that looks best.  The longer pencil skirt and midi length really play to the Minimalist trend.
Here is a beautifully refined pencil skirt from Ann Taylor with a chic twist.  The zipper running the length of the skirt pulls your eye down so it creates a long lean look.   I love the look of a pencil at every length.  Look how great it looks with a leather jacket. 
This look is also from Ann Taylor and would be wonderful for a casual or creative office or a dinner out.
Perfectly refined for the office, Ann Taylor again in a suit with matching jacket that grazes the hips for the most flattering look.  A jacket that grazes the hip of your pencil skirt instead of hitting below the hip will keep us curvy ladies from looking too boxy.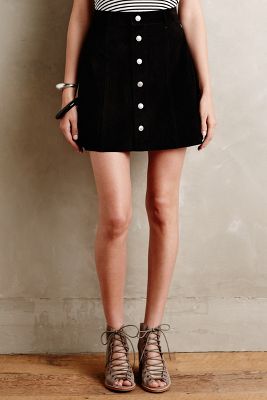 You can also wear the pencil skirt a bit shorter and have it casual.  Here is a suede Alexa Chung for AG button front ( big detail for fall) at Anthropologie.  Great with tights and boots in the winter as well.
A stong look for Fall is the softer fuller skirt.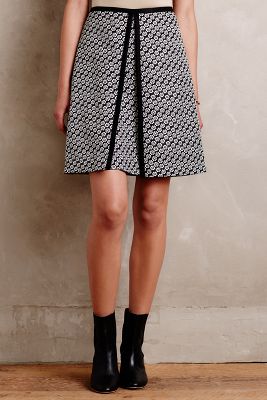 Wear it in a cute print above the knee with booties like this Dasified A line skirt at Anthropologie or  play it a little longer
like this A line ankle skirt from Whitehouse Blackmarket.  If you like the trend of a softer fuller skirt try the different lengths until you find one that suits you.  You can pair this type of skirt with a '70's Boho or Victorian look just by changing the shirts and accessories.  I only have one fuller skirt from Eileen Fisher.
Here is a picture of it in a plus size.  Mine hits just below my knees and because the waist is elastic I just roll it up if I want it shorter.  But careful of one thing with fuller skirts and a lines, they can create bulk around the middle, so you need to either have tops stop at the waist, tuck in or are very fitted in order to pull the look off.
Midi's can be found in almost every line and in every fabric. They are really great with flat boots and a shorter jacket or something belted over top.  The pencil midi is one of the key Minimalistic pieces for fall.
Eileen Fisher is showing this merino wool paneled midi for fall. Antrhopologie is showing trendy, funky midi skirts with a Boho edge to them like this Brushed wook Chevron skirt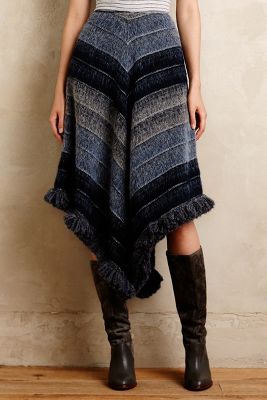 it definitely is fun with boots and chunky sweaters and can work with so many of the fall trends.
Pick your favorite things and let them work for you.   If you love pencil skirt and flare pants, let those be your calling cards for this fall.  If you love ankle pants then wear them with confidence.  You are your own best judge of what works for you.  Just do yourself a favor, try something new.  Embrace a change and get out of your fashion rut if you have been wearing the same look in pants and skirts for a while.
As always I can be reached at suethefashionista.com.  Feel free to email me for advice or set up a styling appointment.  Also I would welcome any feedback you have.  Enjoy the change of seasons and let me know how you are doing with your fall looks.  If you email a great fall look you have put together I will use it in one of my blogs ( with your permission of course).  My goal is to inspire you to be the best you and love the way you look.
Next blog will be all about Fall suiting for my working ladies.  If there is anything particular you want me to cover just email me and let me know.