I started to work on my next blog and realized that I never spoke about Transition.  Transition is the secret season.  Transition is the term for fashion that you wear either in between seasons or all year round.  Every year about this time you see fall clothing in stores and my email is flooded with what is new for fall.  The same thing happens with Spring when February hits.  But more likely than not, you can't even begin to dream of wearing the clothing they are showing.  It's either way too warm or way too cold.
At the beginning of September every year the worst thing that happens is you look into your closet and think hmm, how can I wear that sleeveless pink top and white jeans with sandals.  It's warm enough outside, but it seems too late.  Well wonder no more, they really are no more rules with fashion like no white after Labor Day or no sandals before Victoria or Memorial day. As a matter of fact I think white jeans are a year round piece.  I have seen women wear them with great sweaters and boots and it looks fab.  So let's put any preconceptions you have about how to dress because there is a certain date on the calendar aside.
Starting with my favorite item: Jeans.  Jeans are 100% the most versatile piece in every wardrobe.  You can wear them all year round and they work for every season and in between.
This is a classic slim leg 5 pocket jean from Talbots.  You can wear this all year with different tops and shoes.  Boots in the winter, sandals in the summer or just like they are in the picture with closed toe loafers and a long sleeve tee for a transitional look.
White denim paired with closed toe black flats and a long sleeve black sweater or shirt works perfectly when the morning are cool and the afternoons are warm.
My other favorite in the denim family are colored jeans.  If you bought red jeans for summer, keep wearing them and add darker pieces on top and bottom to help them look like they belong in the Fall. I think you get my drift about denim and how it really goes everywhere and anywhere.
Don't forget about other denim pieces.  I just read somewhere today that one of the must have pieces for Fall is the denim dress. There are all kinds out there sheath, shirtdress etc.  If you invest in one you can wear it right away.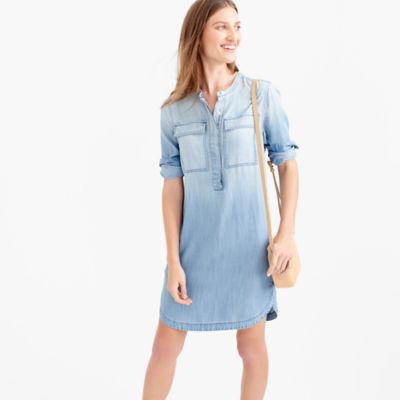 What about this draped denim dress from J. Crew.  You can wear it right now as you see it in the photo and then later wear it with leggings and boots and roll down the sleeves and put on a quilted vest.  Them when it gets warmer in the Spring pop on colorful ballet flats and your are off again.  It is a non stop wonder!
Denim skirts work the same as dresses.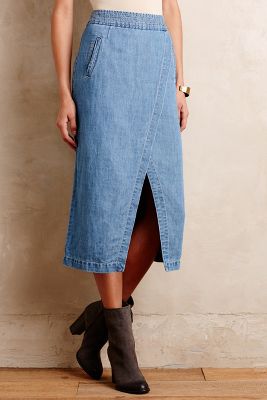 This wonderful denim midi skirt from Maeve at Anthropologie is a non stop piece that will carry you though every season and in between.  Great with boots, flats, heels and T-shirts, turtlenecks and blouses.
It's funny but I don't mind investing in things that may not be classics but I can wear them all year round.
Jean Jackets are also an all year round piece. 
This darker wash jean jacket from Talbots can take you right into fall in the dark wash.  Lighter wash ones take you into spring.  This look would also work well if the jeans were black instead of white.  So the jackets is seasonless.
You also see a lot of 'What to wear right now' this time of year. And you see dark-colored denim and pants, long sleeve t-shirts, plaid shirts and light weight and textured jackets.  For shoes you see ballet flats and closed toes wedges and pumps and runners.
Shirts and jackets can look like this Varsity stripe jacket from Talbots, a nod to the sporty styling but a bit more polished.  Perfect for a September day.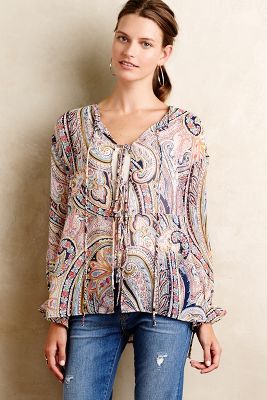 Blouses are shown with a long sleeve and details that can be worn under sweaters or jackets.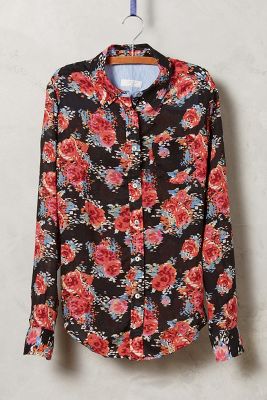 Floral, plaid, actually any print or style of button down blouse works great with a tank underneath just in case it is unbearably hot when you get out of your office or house and it's still warm in September.  Perhaps use a black tank instead of a white one this time of year.
Shoes come a little heavier but not too heavy.  This wedge from Talbots comes in 5 colors, navy or taupe are both great for a transition look.
Wear now and later, these 67 Collection Beth Mules come in 2 colors and will work with almost any bottom or dress with bare legs for right now and then tights when the cool fall weather actually starts.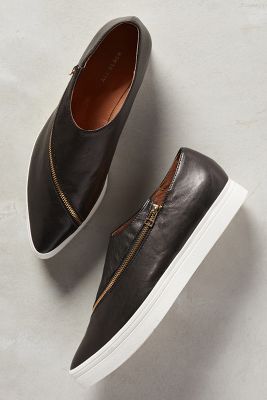 These zip sneakers by All Black are exactly the right kind of runner that will take you from the last days of August though September and to October when boot season really begins. Things like wearing your pumps without hose, loafers without socks make you cooler and let you still look like you know the long days of summer are coming to a close.
Pants are really easy and so are skirts.  There are lots of 'seasonless' fabrics in all sorts of stores.  Polyester is a great fabric to wear as a transitional fabric.  Not ready for wool and it's too cool for silk, there is always a poly piece that can fill in. Just about all the things you buy now are blends.  Polyester has come a long way from the double-knit pants suit days that paid for my university education ( thanks Dad!).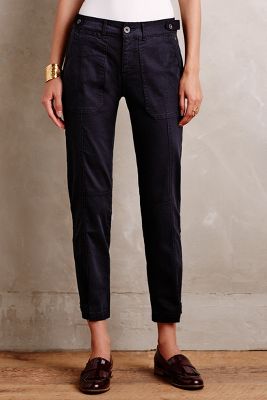 These Pilcro Hyphen Utility Chinos are a cotton stretch blend, so that means there is some nylon or poly in there to make the cotton more comfortable and durable.  Dark color chinos are a great way to take you into transition.  Here paired with a fabulous loafer it's great for September.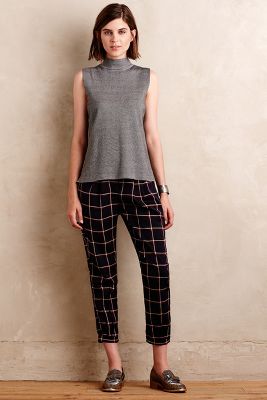 These Greylin Portside trousers paired with a great little sleeveless mockneck scream transition to me.  This is what I want to wear in September!
Or maybe a Glen Plaid ankle pant from Talbots that you can wear to work with a red sweater or turtleneck and pumps.  Polished and comfortable.  No need to wear a jacket when it's warm out, a cardigan can suffice.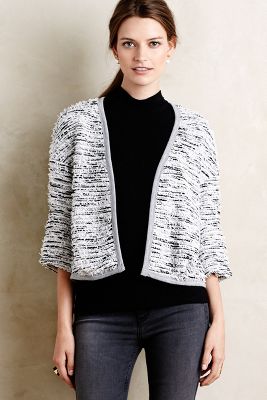 Is it a cardigan? Is it a casual jacket? It's both!! This Orage Cardigan by Ottod'Ame is perfect for right now as a jacket with pants or a skirt for work and denim on the weekend. The lighter color and the heavier knit really will be the perfect transition piece for any wardrobe.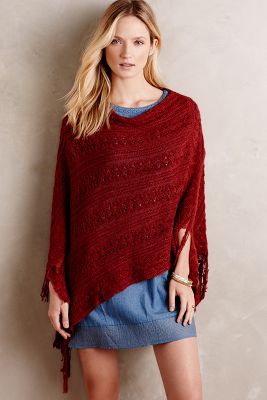 I love this Redwood Poncho.  A Poncho or wrap is exactly the perfect piece overtop as the weather begins to change.  Remember our wonderful sleeveless denim dress from summer?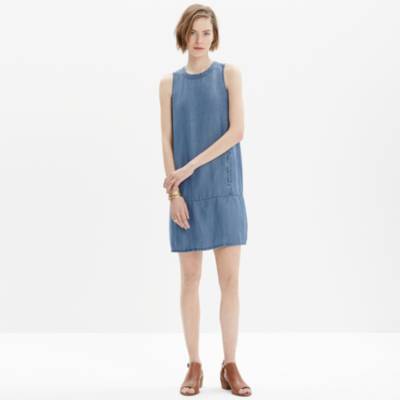 This dress with a poncho like the Redwood one or a great wrap takes the dress from summer right through September.  They key is to buy a light enough poncho so you can wear it over the dress inside as well.
Suits can be a breeze for transition.  Think darker colors and lighter fabrics.
This seasonless look from Whitehouse BlackMarket is exactly what I am about.  The seasonless blazer and pant are both in a poly/nylon/spandex fabric in black that is cool and comfortable and not super heavy.
Or wear this poly blend drape front blazer with either pants or a pencil skirt belted like in the picture ( Whitehouse Blackmarket again) and you are all set for a day at work in September or March!
This all season blazer from Ann Taylor in a poly viscose combination paired with
this fabulous pencil skirt in the same fabric can take you right into the court room or any formal office setting.  For suits look for words like all season, triacitate and tropical wool.  Those are all clues that something is in a lighter or transition fabric and can be worn when it's a bit warmer out as well as when it's winter.
There are lots of long layers for fall.  Bring them in a bit early by wearing a vest or lighter longer sweater over your dresses, skirts and pants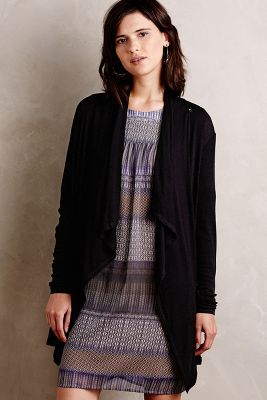 This black Hutton Cardigan from Anthrologie is rayon spandex and works great as a softer floaty jacket for a pair of pants, skirt or dress.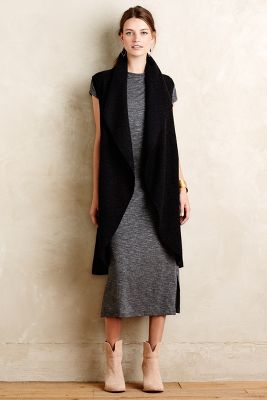 This Museum District Vest will do exactly the same thing and you will love the comfort of having it over your dress.
And of course let's not forget about our friend the modern sweatshirt.  Sporty wear was huge for spring and summer and it will still be strong in the fall. But its greatest secret is that it really works all year round.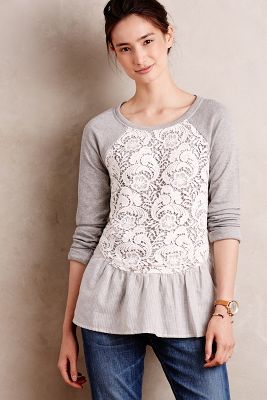 I love decorated sweatshirts that add a bit of femininity to the look of a sweatshirt. This Meja pullover is something I would wear right now and continue wearing until next summer. Of go for something that has a print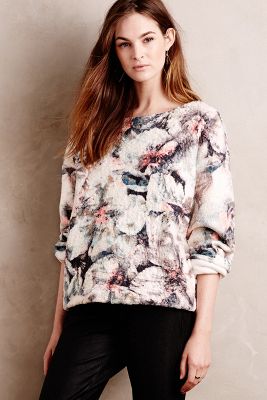 This Omna pullover works great casually but also over your black light weight pants with a great loafer for a casual office day or a casual dinner out. Heavy enough to stave off the cooler evenings and light enough to wear during the day.
Transition is about light layers and darker colors.  Take your summer darker blouses and pair them with a black cardigan and dark denim.  Wear ballet flats instead of sandals with your pants.  The layers help because the air conditioning may still be on even in September.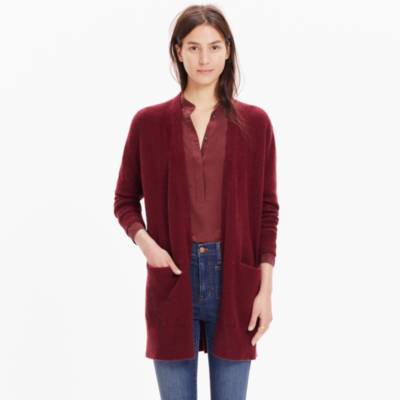 A light layer like this Ryder Cardigan from Madewell in a darker fall color will do the trick.
Keep in mind that everywhere real fall weather begins at different times.  On the east coast it's usually cold by October and you can move into jackets and boots, for us on the west coast, I remember going to pick pumpkins with my kids for Halloween and it was 20 degrees ( 70 farenheit) outside.  Dark colors in lightweight clothing is always the answer to what to wear now in September and beyond.
I hope you didn't mind this interruption into our Falling into Fall blogs. I will be back with a new Fall blog on Thursday Sept. 17.  Stay tuned for fall pants and skirt trends and how they fit into all the fall trends.  Fall suiting will be covered on Sept 21. I just didn't want to miss an opportunity to talk about the kind of clothes that most women wear all year round.
One last note to all my bargain shoppers.  Right now prices on summer clothes are slashed to below half price in some cases and it's really tempting to buy things to put away for next year.  Do yourself a favor, only buy those things that you know you would buy if they were still full price.  If you have been eyeing a white designer dress all summer and you would have bought it but can't bring yourself to pay the price, now is the time to pounce if it's on sale and they still have your size.  Colors like white and black are always in for spring and summer.  Careful with all the colors we saw just this last summer.  No guarantees those colors will carry over to next year.  Same with sandals, especially dressy ones: classic high heels and wedges in black will always be in, same with metallic and brown, taupe and beige.  Perhaps now is not the time to buy designer purple stilettos.  If you are buying on sale, buy wisely.  Remember it's not a bargain if you never wear it and try to buy things that you would only buy if you would also buy it at full price.  That goes for accessories on sale as well.  A great purse is only a great purse if you will wear it next spring too.
As always I can be reached at suethefashionista@gmail.com with questions or to make a personal appointment.