Getting ready for fall is a process.  My next 4 or 5 blogs will be about different aspects of fashion for fall 2015. I am going to assume that before you all start your fall shopping you have cleaned out your closets.  If you haven't cleaned out your closet see my blog from 2 weeks ago or email me and set up an appointment and I will come and help you.  My rates are quite reasonable but I am not going to post them here.
This first blog is about fall classics, how to buy them, how to make sure they are current and how you can wear them if you choose to. If you are really into it do yourself a favor and buy one or two September fashion magazines like InStyle or People Style Watch.  They list the trends for fall.  The only issue with some of the magazines, in my opinion, is that they either show them for 20 year olds or I find they show things that are exorbitantly priced that are not fall classics but fall trendy items.  So please be cautious.  If you are tech savvy, all the websites I have recommended, J. Crew, Anthropologie, Ann Taylor, Nordstrom and Madewell are showing fall trends, fall classics and examples of the both.  I am going to try to show you the classics and how to wear them so you can marry them with the trends you want to wear for fall.   So in other words, how to take the trends and classics and personalize a look that is just for you.
No one wants to waste money on trendy pieces.  There are a couple of ways you can look at your fall wardrobe.  I divide mine into classic pieces ( clothing that I might spend a bit more on and can keep for a number of years because it will not go out of style.
This is a pair of boots from Stuart Weitzman. It called the 'Mixitup" boot.  This boot retails around $800 so this is what I am talking about as a classic piece that you could keep for years in your closet and wear with all sorts of bottoms.
The other part of my wardrobe are the trendier pieces.  The things that might be in for a season or two, and they are things I try not to spend too much money on because I am not going to wear them for a long period of time.  When I used to be a Ladies wear agent we use to call these types of clothes Cheap and Cheerful.  Cheap because you could afford to buy a new one every season and cheerful because you felt good when you wore it.
Classic pieces include:  A good suit, or many if you wear suits to work. A couple of pairs of good jeans, and there are many different jeans you can keep in your closet. Boots, like the pair above, a good bootie for dress up with pants of skirts and a great casual boot for daytime to tuck in jeans or leggings or to wear with tights and skirts.They also can include a coat or outerwear piece.  I spend the most money on pieces that are the color black.  Like I have said before Black never goes out of style. A beautiful black suit, a great pair fo black boots or a black cashmere turtleneck is something you can invest in and wear for years.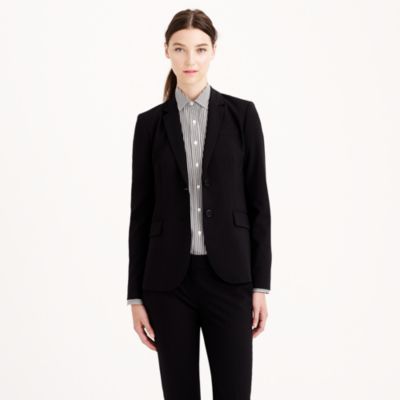 Suiting I would invest in would be something that would not go out of style next year.  This stretch wool blazer from J. Crew retails at $365 and is a piece you can wear to the office or with a pair of jeans on the weekend or a casual office day. I am not going into detail about suiting here, for my working readers, I will do an entire blog about suit jackets and pieces that are a lot more interesting so you don't look like one of the boys. Only skinny girls and men look good in a boxy suit jacket.  One tip: Watch the TV show The Good Wife to see women killing it in suits.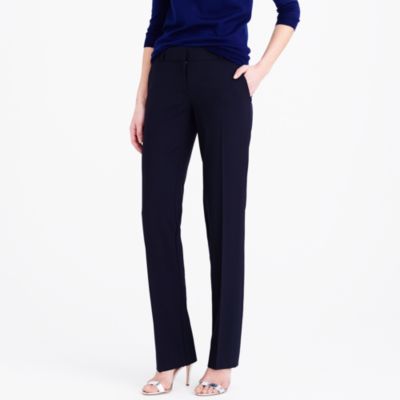 I would also invest in a great pair of black pants. Actually maybe a couple of pair of black pants.  Items like a classic one above and maybe a slim leg wool or stretch wool pant and a really good pair of black leggings that are heavy enough to wear on their own with a tunic and under a short or casual dress.   The pants in the above picture are stretch wool as well from J. Crew and match the above jacket. When I buy a suit, I buy more than two pieces.  So I buy the jacket, pants and/or a matching dress
  and skirt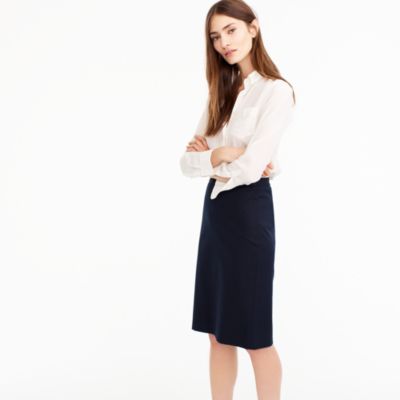 . Both the dress and skirt above are in the same stretch wool from J. Crew.  The dress has slight detail on the shoulders so you have a bit of interest.  The skirt is a classic pencil skirt. Classic pieces like the pencil skirt can be in complimentary colors as well.  This grey combination pencil skirt from Halogen is a great example.
This grey color will work with a black blazer and make it not so serious because the colors complement one another.  You could also wear this type of skirt with a black cashmere of wool turtleneck and boots when the weather gets colder.
I love having a good classic black turtleneck and cardigan in my wardrobe.  I usually pay a bit more and they last longer ( hence the word a wardrobe classic). 
This classic round neck cashmere sweater from Talbots will set you back about $150 but will work with everything from jeans to office wear to an evening out.  Think of how cute ( and warm) you will be for a winter dinner out with a black lace pencil skirt, this sweater and a fabulous pair of suede or leather black boots.  That is one of my go to looks when I don't know what to wear in the winter to something that is dressy but not formal.
My classic fall wardrobe includes that great black lace pencil skirt.
Here is a picture of the one I own from Talbots two winters ago.  It is a cotton lace so I can wear it year round.  Now that's a real classic piece! I wear it winter with sweaters and summer with little tops like above.
Another item you want to invest in is a great pair of jeans or two.  Denim is now a classic and there are a ton of different silhouettes this fall.  Flares, trousers, bootcut, slim and jeggings are all in style now and have been for the last couple of years.  This fall the trend is to wear them in a darker wash.  But if you have been reading my blog from the beginning I have said jeans are a key piece in every wardrobe.
This classic straight leg jean from J. Crew will take you anywhere and you can wear it with anything. This is a medium wash.  It will never go out of style.  Think of how great and polished you will look with these tucked into boots with a great black blazer! Voila a perfectly polished look you can wear season in and season out. I personally have a number of silhouettes and colors of jeans in my wardrobe.  I have dark, black and medium wash.  I have flares, straight, skinny and boyfriend jeans.  One of my very favorite brand of jeans is Eileen Fisher.  I have their skinny in black and medium wash, their straight leg in both washes, a white pair of skinny ankle jeans and a pair of light wash boyfriends all from Eileen Fisher.  When you find something that works for your body with denim stick with it.  If you love GAP jeans, then buy all the washed and cuts there; some women love 7's or Hudson, what ever works for your body keep doing it. I personally spend more on denim than a lot of other items, but I wear denim almost every day.  If you are wearing a uniform or suit everyday.  You probably don't need 10 pair of jeans and 3 really good fitting cuts, a flare, skinny and boyfriend will get you through. I could devote a whole blog to denim and I just might for fall but I think you get my point with denim being a classic for now.
Another great item to have as a classic piece in your wardrobe is a great pair of leggings. Black is the only color that is a classic legging color.  Listen, your daughter or son's girlfriend may wear leggings in prints and colors but don't invest in a pair.  If you really want them buy them for a good price.  They are what I meant when I said 'Cheap and Cheerful'.
Here is a pair of classic black leggings from J. Crew.  Everyone or almost everyone has a pair of black leggings in their stores for fall.  Buy a good pair that isn't see through and that has enough weight to wear on its own with a top or can be worn under a dress.  This pair runs about $50.  It's hard to find a really good pair for less.  Sometimes Costco, yes Costco, has Nicole Miller leggings in a 2 pack.  They are pretty good and you can buy two pair for the price of 1 pair everywhere else. Stay away from low-rise leggings.  We have to say no to a muffin top with leggings and with jeans.  If you need a high-rise jean ( I do) buy one, same with a legging.
A great white shirt or blouse is another classic that every wardrobe should have.  If you don't want a classic style that echo's a man's button down look for ones with a bit more detail.  Like a tie neck or a ruffle down the front placket.
Both of these are examples of classic pieces. The blouse on the left is an Equipment Silk blouse and the bow tie one, also silk is from Kate Spade. Both work with every classic piece above and would be great in any wardrobe.
The last classic piece I am going to cover today is boots. Heel heights on classic pumps keep changing.  And I think that most women have a pair of pumps they love so I won't go into detail this blog.  When I talk about fall trends I will talk about what heel etc is in for fall 2015.  But back to boots.  The very first picture I showed you above is of a great pair of classic flat boots. There are two other kinds I am going to recommend investing in as well. A great pair with a heel and a great casual boot.
I love both these boots.  The pair on the left is Michael Kors 'Shaw' boot and the one on the right is Kate Spade 'Nessa' boot.  Have a great pair of suede high heels boots from Stuart Weitzman I have had for a couple of years and they work well for me.  I don't have a pair like the Michael Kors pair but that could change this fall.
The other pair that a good fall wardrobe should have is a casual boot.  This could include a tall shaft and/or a bootie or moto boot style with a lower shaft.
This is the Frye 'Veronica' boot.  I have a pair and love them.  they are one of my go to casual booties.  Again, I spent a little more and they have lasted me for years.  I take them at the beginning of fall and get them professionally polished up and I am ready to go for another season.
This is a pair of Lucky Brand 'Heloisse' boots.  They are casual, comfortable and a great casual pair of boots to have in your closet.
So now we have covered what I call the classic pieces for fall.  I showed almost everything in black.  But other classic colors are grey, camel and burgundy.  Any of the classic pieces ( except the denim) would be a great addition to your wardrobe in any of those colors as well.
Next blog I will start talking about the trends for fall 2015.  Remember to invest ( pay big money) for only the pieces you can rewear next season. I have run out of room to do coats here but I think that can be a whole blog on its own.
Need help negotiating fall attire or if you need help with cleaning out your closet email me at suethefashioista@gmail.com and I would be happy to help you.