Everyone has to travel, packing can be a nightmare! What to take, will I need this, what if I get there and I forget something? Travelling is stressful enough, unless you are a seasoned traveller or travelling is part of you career.  Packing should be something that doesn't put you in a panic.  Also there are very few places you go today that you can't get something if you have forgotten it.  Below I will try to give you the guidelines I use for stress free packing and travelling.
Packing:
A lot about what you pack will depend on where you are going.  Summer travel is either for a vacation ( lake, beach etc) or to a city for an event ( wedding, meetings,etc).  You can check the weather for your trip on any of the weather websites.  They will give you the forecast for the next 14 days and they are usually pretty correct.
The most important things about packing for a trip is sticking with one color scheme. I cannot stress that enough! Pick a color to be your base.  I always choose black as my base.  That means that everything I pack for that trip will work with black shoes, sandals, and a black jacket or sweater. I usually carry 2 purses or bags.  One big black one that is also my travel bag and a smaller colorful one to use at my destination.
Take only the shoes you need ( shoes are heavy and airlines are sticklers about their weight rules for bags).  So for a summer trip I would take flat casual black sandals and higher ones for evening or dinners out.  I usually wear a pair of black ballet flats while travelling.  I find it more comfortable than sandals, but it depends on where I am going.
Something like this Bandolino sandal is great to have with you on a trip if you are going with a black color palette.  It will work with everything, casual dresses, pants, shorts and skirts.  The fact that it is all black patent makes it a tiny bit dressier if you need it to be and it is flat so you will be comfortable walking around all day in it.
I love wedges!  I actually have this very pair.  They are from Franco Sarto and are extremely comfortable.  This is your higher or second travel pair.  They are a wedge, so great with dresses and skirts.  They are a bit higher so they can dress up pants, jeans, dresses for a dinner out.
If you don't have a dressy event to go to both those shoes above and a pair of travel shoes will take you anywhere.  I prefer ballet flats for travelling.  But I know a lot of people who prefer runners.  Don't wear your jogging shoes, there are plenty of chic sneaker options out there this spring and they carry into fall as well.
Here are two great options for shoes for travel day.  The cute little ballet flats are from Born so you know they will be comfortable.  Ballet flats, a skinny jean, cute top and you are all set for travel and whatever you are going to do when you land. The sneakers are from Steve Madden and I chose that example because we are talking about summer travel and they have a very cute cut out design that makes them a little more interesting than just plain slip on sneakers.  If you are travelling for a meeting or something for work the ballet flats are the way to go. For a vacation, you could wear the flat sandals above or the sneakers, what ever you are more comfortable in.
Clothing:
I always travel in a pair of jeans.  I like a skinny pair that can take me a bit more dressy if I need to.  I have never been on a trip where I didn't need a pair of casual pants for something.  Go back to my jean blog (the 2nd one) and see which style works for you.  J. Crew had a jean fitting workshop on from now until August 9 if you aren't sure what to wear.  One great pair of jeans that you feel good in will cover you for your trip. Jeans will match any color palette and skinny ones can be dressed up for evening if necessary.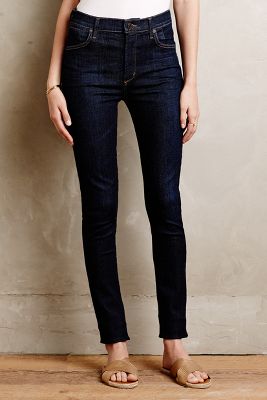 A pair like these Citizens of Humanity jeans in a dark wash with a skinny leg are perfect for travel.  Make sure the jean has enough stretch so that you can sit comfortably.
Other bottoms that can be packed are ( if you are sticking with a black color palette) a black skirt, a pair of shorts ( bermuda or shorter). If you pack longer shorts they can be worn a bit dressier for the evening as well. A basic black skirt will work with all your tops.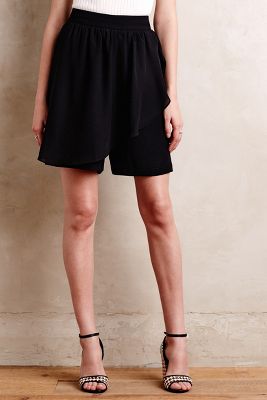 These soft shorts by Corey Lynn Calter can be paired with the flat sandals above for day time and are soft enough to take you into evening with Wedges.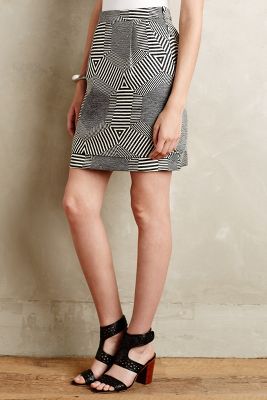 I like both these skirts for travelling with a black color palette.  The print skirt can add a bit of fun with a black or white top and provides a bit more style and interest than a simple black skirt.  It is from HD in Paris and I think it's adorable.  The simple black skirt is a faux wrap from Vince Camuto. Both skirts are in fabrics that don't wrinkle when folded. One is poly and the other is rayon/spandex.  Always look for fabrics that don't wrinkle for travel.  This will save you time from having to press or steam ( I travel with a small, hand-held steamer) when you are in a hurry to get going.
Tops are easy for travel.  For a black palette I would pack one black t-shirt, one white t-shirt and one colorful one.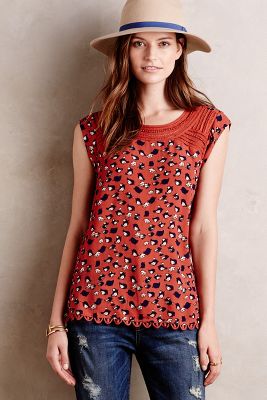 You can choose one of the t-shirts to be your travel shirt with you jeans and flats. Just make sure they are clean before you pack them.  Other tops I would travel with are one non t-shirt for day and one that could be a bit dressier for evening.  I love this little top from Meadow Rue. I love the pop of color if you are taking a black color palette and I love that it is more interesting and could be dressed up.  It is a rayon crepe so you may need to steam it after packing but to me something this cute and versatile is worth it.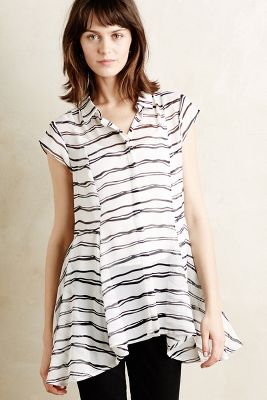 This swing top is perfect. Also from Meadow Rue, is not plain black or white and it's a woven poly with a hanky hem silhouette that will carry you into evening if you need it to.
I would also pack a dress, but then you all know how much I love dresses.  Totally not necessary but I would prefer a dress to a skirt. If you want a dress pick a simple one for summer travel.  Anything that can be worn daytime with flats and then with the wedges for dinner works.
Here is a cute gathered tank dress from Love Appella that is a rayon poly combination.  Dressy enough for evening ( as shown above with a dressy sandal) or casual enough for daytime.
If you need a bathing suit, pack one that makes you feel great. I always pack a cover up little tank dress that I can wear in the daytime too. Underwear is easy, pack one pair for every day and a couple extra and you are all set.
Accessories:
Travel accessories are your jewellery, make up and essentials.  I rarely travel with all my hair tools and blow dryers.  There is a blow dry bar in pretty much every major city in North America, so if I am wearing my hair straight I visit those.  If it's curly, I can just pretty much fit my diffuser on any hotel blow dryer.  Simple and easy. Make up should be easy.  I always wear a day cream from Anna Lotan that has a tint and sunscreen.  Pack you make up simply, only the things you really need. A mascara, blush, foundation ( only if you wear it) and an eye pencil.  Lips can be glossed in summer.  It is a much fresher look.  All hotels give you little bottles of shampoo and soaps.  If you don't need to use your specific brand why not give them a try.  Also all the drug store have travel size bottles of almost everything.  Those pack great and your suitcase will be even lighter coming home because you can toss them when they are finished at the end of the trip.
We spoke about purses above.  One for travel and a smaller one to carry at your destination.  If you are smart your travel bag could also be your beach bag or pool bag. If that's the case make your travel bag a man-made fabric and not leather. For jewellery, take all your most expensive jewellery to the bank before you go. Unless you need it at your destination for a dressy event you don't want to have to worry about it. Take fun accessories.  A couple of  bangle bracelets, a couple of cute necklaces that will dress up or dress down your outfits.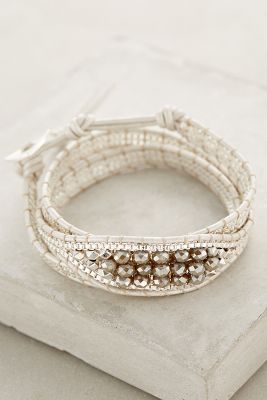 Here is a cute little wrap bracelet from Anthropologie that will work with all the outfits above. It's funky enough for day and dressy enough for evening.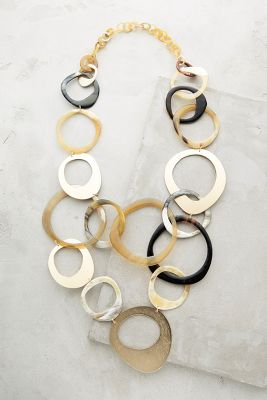 This funky necklace is from Anthropologie.  It will make any outfit.  Put it with a white t-shirt, bermuda shorts and wedge sandals and it's perfect to take you out in the evening. Wear it with the tank dress and flats and it's great for daytime. Very versatile.
One of my new favorite fashion jewellery brands is Eye Candy Los Angeles.  This necklace is a bit dressier and will work to make anything you take a bit dressier.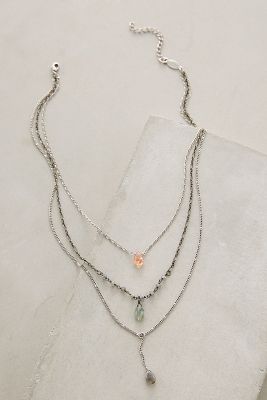 This Verdia layered necklace is also great.  Layered necklaces are all the rage right now and this one is great for travel with your black color palette.  Perfect to add a touch of polish to any outfit.
So there you have it.  Travel made a bit easier, I hope.  If you are attending a wedding or dressy event.  Add one more dressy dress and a dressy pair of heels of sandals.  And you are done.  If you are travelling to a meeting, add  a jacket that you can wear over the dress or with the skirt. 
This Max Studio kimono jacket is casual enough for jeans but could be worn with the dress or skirt above for an office look.
I happen to be travelling quite a bit this summer.  Everyone from a lake front vacation to a family wedding. As a matter of fact I have been travelling so much since March I have kept my suitcase in my bedroom just so I don't have to lug it up from the basement every time. I commit to the one color palette travelling.  It makes life so much simpler.  I also have a saying that I use when I pack " if in doubt, go without" put more simply, If I am not sure I am going to wear it, I leave it at home.
Good luck with your packing. If you are travelling this summer, enjoy your trip!
Blogs will be posted only on Mondays from now until the end of August.  Questions or comments please see my contact info on the about page. I won't respond to comments posted here.
Happy travels!!