We have reached the final chapter in our dress segment until fall.  Today I am going to discuss dressy or fancy dresses.  When to wear them, how to wear them and hopefully give you a few dress up ideas you hadn't thought of before.
Before I start with specifics let's go over one important point.  With all dresses, from casual to dressy, they need to suit your body and life style.  For example, if you are a curvy woman with an ample bust, it makes sense to stay away from dresses with a halter top or ones you can't wear a bra with.  Same with any figure flaw.  If you have bigger thighs, stay away from minis.  It really is just common sense sometimes and if you look in the mirror and every sense is telling you it's not good, chances are it is not good.  Trust yourself.  And if you are still not sure, you can always contact me ( contact info is on the about page) and I will help you though whatever clothes conundrum you are facing.
Dressy Dresses:
Let's start with talking about when to wear a dressy dress.  Naturally one automatically thinks of an evening event.  But there are dressy things that happen during the day as well.  Basically I follow the instructions on the invitation ( if it's a function that I am invited to).  Words like Black tie ( very dressy, long gown options apply), Black tie optional ( very dressy for women both long and short can be worn) and Formal ( same as black tie optional or black tie).  If the event is formal, then you can wear a formal dress.
Here is a long dress or gown from Erin by erin featherstone available on Nordstrom Rack.  It is something that is appropriate for a formal or black tie event.  I really like this particular gown because it suits a lot of women.  It is sleeveless, but you can wear a bra under it and the skirt is full enough that it will move when you walk without making you look like your hips are huge.  I would pair this with a delicate high heel sandal in metallic or black for summer and if I was wearing it in the fall or winter I would wear a black patent heel.  A small dressy clutch bag is appropriate as well. I am talking about this being a gown for all seasons because the purple color is so wonderful it would work all the time.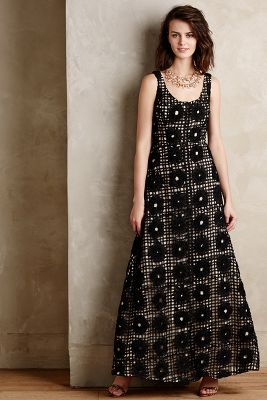 Here is a younger, more fun gown from Anthropolgie.  It is cut a bit lower in the back but you likely can wear a bra ( or get those straps you attach to your bra to pull it down a bit) and it is an A line style that is universally flattering.  Because it is black and white it is truly seasonless. But Anthrologie is showing it for summer.
These are two examples.  There are lots of gowns out on the market.  But try to stay with a youthful style or color.  You don't want to look like the mother of the bride or groom, unless that is of course what you are going for.  I also prefer a wrap to a jacket.  I find the type of jackets that are sold with long gowns just make the person wearing it look even more matronly.
Here is an option that I would also wear only in summer.  It is an Erin by erin featherstone and I absolutely love something like this for a summer wedding.  The light color takes it to a little bit more casual tone if you pair it with flat sandals and light jewellery.  High heels and lots of bling and its black tie ready.
But what if it is a formal occasion or black tie optional and you don't have or want to wear long.  No problem, there are literally tons of dresses that work.  One thing to remember, buying a dress in black will automatically make it better suited for a more dressy occasion.
Here is a Nanette Lepore short black dress that can take you anywhere the Black gown above could take you.  I love the close fit of the dress, it's bra friendly and it has a wonderful tone on tone print to make it more interesting. High heels sandals or pumps and your done!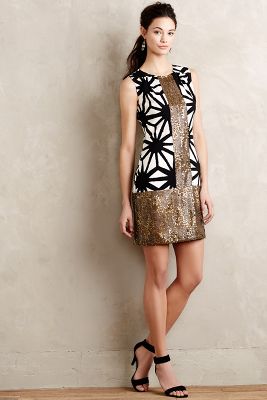 This little dress from Anthropologie is one of my very favorite summer dressy looks this year! It could go formal because of the sequins detail, but it is fun enough to wear to a non formal occasion as well.  It is so interesting you could wear it to a wedding, out for dinner with friends and then to a holiday party with black tights and high pumps.
So that covers Formal.  The next type of occasion you may need a dress for is something that is considered Semi formal.  More and more events are semi formal. The above short dresses could be worn for a semi formal occasion with making the accessories that you pair them with more casual. You can also wear a business dress for a semi formal occasion if it is during the day. Semi formal even means you can wear separates ( skirts, pants) and that dresses are not required.
Here is a semi formal dress by Jessica Simpson.  The red color makes it a lot of fun and the straps are sequins to add a bit of polish. This would be great to a summer wedding or party where the dress code calls for something semi formal.
Here is another example.  Fun, flirty and a bit sophisticated.  It is from Nicole Miller and if you can wear a cut out waist, they are huge this summer.  But not everyone can wear that detail.  As a matter of fact, if you would wear above a size 6 in this dress, skip it.  The cut out is not for you.
One last example from White House Black Market, one of my very favorite stores.  It is a basic black and white sheath dress with a wonderfully dressy detail.  Perfect for a semi formal occasion.
One other look I go to for a semi formal occasion is a dressy skirt and a not so dressy top.  For example, wearing a shorter or knee-length skirt with sequins on it and a more casual little top in summer or a turtle neck top in winter. But we can talk about those type of look when we cover skirts or things that you should just have in your closet because.
That's the end of the dress segment for summer.
Some of the fall looks are entering the stores the beginning of August.  If you have time browse either in the store or online and get an early start on what look you like for fall.  Here is a stylist hint: there is lots of color in fall clothes and they will have either a 60's flavor or you can see some Victorian styling out there.  Start looking now and in September I will start covering what is new and how to wear it.
Enjoy wearing your summer dresses for now!