There is one piece of clothing that can transcend any other in a woman's closet.  It can take you from the beach to a cocktail party.  It's something you wear when you are going to the most important events and something that you wear when you just want to feel pretty.  Yes, I am talking about dresses!  My love affair with dresses began years ago.  Before I had my children I worked as a manufacturer's representative in the Fashion industry.  There was one line that I sold that made a huge impression on me: Joseph Ribkoff Dresses.  Riibkoff was a dress house out of Montreal and it was mid priced.  The average Ribkoff dress retailed around $150.00.  The one big lesson selling Ribkoff dresses taught me is that everyone looks good in a dress ( not the same dress mind you).  There is a style that will suit you and you should endeavour to find it.  I sold those dresses from Vancouver to Saskatchewan and they were actually the biggest seller in dresses in the late 1980's and early 90's.
Today's dresses don't have to be the fashion of the moment.  Sometimes you can just wear a dress because it's comfortable. There is nothing easier to wear than a dress, nothing quicker to put a look together with.  Just remember this: a dress, shoes, accessories and you are done! No worrying about does this skirt look better with this top? Should I wear these pants today and with what top?
Today I am going to talk about casual summer dresses.  The different silhouette's and how to wear them.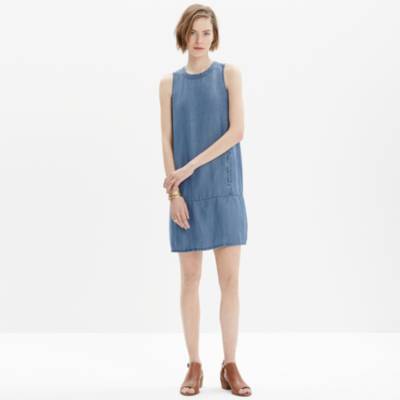 This is my favourite dress this summer.  It is by Madewell and you can get it in Canada on Madewell.com.  It is a wonderfully comfortable dress, can be dressed up or down and is cool and made of soft Tencel.  It feels great on. You can change the way it looks by wearing it a bit more fitted than they show it on the Madewell website.  I also like to wear a chunky necklace and embellished sandals to take the dress up a notch.
Here are 2 looks with the same dress that can make it look different just by changing your necklace and shoes:
Here is the same dress as in the photo above just with a bold necklace ( hautelook.com) and chunky casual heels ( Steve Madden). It works great for daytime.
Here is the same dress one last time with a softer, more feminine necklace ( Eye Candy Los Angeles) and embellished sandals ( Whitehouse Blackmarket).  The beauty of a dress as simple as this is that by changing the accessories you change the feel of the dress.
Here is another casual dress that I adore. The bold palm tree print is perfect for summer and because it is so busy ( get a load of the adorable pink lining!) you don't necessarily need a necklace, just big hoop earrings will carry the look.  Two choices of shoes, a casual wedge or a fancier chunky heel to make the dress complete. This dress is by Bobeau, available on Nordstrom Rack.com. The casual wedges are Joie and the chunky heel is Joan and David.  Everything is available online.
Here is the last look for today.  Sadly the picture doesn't do the dress justice. This is a white dress with a white iridescent embroidery all over.  It is very fitted and has a long gold zipper in the back.  I have paired it with white and snake print higher wide heel sandals and gold accessories. The dress is Laundry by Shelly Segal and the shoes are Nine West. To me this is a more dressier look and can take you out in the evening.  But put a colorful sandal and more casual accessories and you could wear it for a daytime event. I love the fit of this dress, it hugs your curves.  And if you are buying a simple styled dress, having it hug your curves is the right look.
The key to looking good in a dress is making sure it suits your body, whether your body is curvy or straight there is a dress for you.  Try on lots of different dresses and only buy the one that makes you feel great! Right now stores like Anthropologie have tons of dresses and lots of different styles.  That would be a great place to start looking. If you find a brand you like and you know what size you wear, then you can go online to places like Hautelook, Nordstrom Rack and see if you can find it at a discount.  2 or 3 casual, comfortable dresses will take you though an entire summer.
I said Part 1 because I haven't touched on Maxi dresses and barely scratched the surface of dressy dresses. I will leave fall dresses and looks until then.  But stay tuned for my Thursday post and I will try to finish off summer time dress looks.
Until then, happy shopping!!!!!